February 26, 2021
Purandaradasara Keerthanegalu | Purandara Dasa Songs | Bhakthi Geethegalu 3
Purandaradasara Keerthanegalu | Purandara Dasa Songs | Bhakthi Geethegalu 3: Purandara Dasaru was a great saint and poet from Karnataka. He was a Haridasa – a great devotee of Lord Krishna. He was a composer, singer and one of the chief founding-proponents of Carnatic music.
Purandara Dasaru was not only a poet but he is regarded as Sangeeta Pitamaha of Carnatic music. His contribution to Carnatic music and Dasa Saahityha [Dasa Literature] is immense. 'Purandara Vittala' is his pen name or Ankitanama.
He has composed plenty of devaranamas, Keerathanas, Padagalu. Most of his songs are in praise of Lord Naraayana and other Devatas. Purandara Dasa's aradhana or punyadina is held on the pushya bahula amavasya of the Indian chandramana calendar [February-March].
Here we have made an effort to provide some of the Purandaradasara Keerthanegalu here. Lets look at the following Purandaradasara Krithis..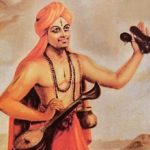 Purandaradasara Keerthanegalu Part 3
11. Nalidaade enna naalige mele
12. Onde Manadali Bhajisu Vaagdeviya
13. Paalisema Muddu Shaarade
14. Kodu Bega Divyamathi Sarasvathi
15. Sharanembe Vani Poreye Kalyani
11. Nalidaade Enna Naalige Mele Song Lyrics
Nalidaade Enna Naalige Mele Sarasvathi Devi
Kunidaade Enna Naalige Mele
Salilajodbavana Vadana Nilayale
Ileyola Prathima Gunaganaambudhi Thaaye
Ghalu Ghalu Ghalu Gejjeya Naadha
Bhali Bhalire Nimma Holeva Beralungura Kini Kini Naada
Eleya Maavina Thalira Poluva Divya Paada
Chelva Pendeya Bheda
Naliva Yugala Janghe
Jalaguleyanthe Jaanu
Thalathalisuva Thode Oliva Suguniye
Dinakara Koti Tejadi Holeva
Anupamavaada Kanaka Vasanadinda Eseva
Ghanavaada Jaghana Gaganadandadi Sundara Katiyali Mereva
Manidhama Vibhava
Thanu Jataravu Jahnavi Sulinaabiyu Ghana
Sthanayugala Chandanalepithale
Dundu Mutthina Korala Haara
Mini Minisuva Uddanda Manohara Honnina Sara
Kariraja Pothana
Sondilinanthe Bhujada Bhaara
Nadeva Oyyara
Mandithavaada
Kankana Thola Balegalu
Dundu Havala Kai Kattullavale
Nasunagu Mukhavu Naasaabharana
Eseva Kapola
Hosa Kundala Chalathombulla Shravana
Bisajadaladanthe
Lasitha Karnaanthavaada Nayana
Thilakada Hasana
Shasi Sooryara Abharana Sushobithe
Kusuma Mudida Moordhajavullavale
Shrungaravaada Jade Bangara
Hongyaadige Mudida
Bangarada Heralina Raakati Vara
Bhrungada Swara Hingade Bhakthara Salahuva Bhaara
Kangala Manohara Ranga Purandara Vittala Rayana
Mangala Murthiya Thore Subaangi
12. Onde Manadali Bhajisu Vaagdeviya
Onde Manadali Bhajisu Vaagdeviya
Indu Mathi Koduvalu Sri Hariya Dhyanadolu
Hinde Prahladanu Kamalajana Sathigeragi
Nindu Aaradhisalu Hari Vishvamayanendu
Bandu Vignava Kaledu Bhava Shuddhiyannittu
Hondisidalaga Sri Hariya Charanadalli
Andu Dashamukananuja Vandisadhe Vaaniyanu
Bandu Thapavanu Gaiye Bahu Kaalake
Andadinda Mecchi Varavadhika Bedenalu
Nindu Jihveyali Nidreya Bedisidalu
Aritu Bhajisalu Bidade Ajanarasiya Nithya
Urutharavaadha Vaak Shuddhiyannitthu
Nirutha Sripurandara Vittalana Seveyolu
Parathathvavada Kathamrutavanunisuvalu
13. Paalisema Muddu Shaarade
Paalisema Muddu Shaarade
Yenna Naalige Yalli Nilla Baarade
Lolalochane Thaaye Nirutha Nambide Ninna
Paalisema Muddu Shaarade
Yenna Nalige Yalli Nilla Baarade
Shringaarapura Nela Vaasini
Devi Sangeetha Gaana Vilaasini
Mangala Gaatre Thaaye Balire Brahmana Raani
Sarvaalankaara Daya Mooruthi
Ninna Charanava Stutisuve Keeruthi
Guru Mooruthi Purandara Vittalana Smarisuve
14. Kodu Bega Divyamathi Sarasvathi
Kodu Bega Divyamathi Sarasvathi
Mruda Harihara Mukharodayale Ninnaya
Adigeraguve Amma Brammana Rani
Indira Ramanana Hiriya Sosayu Neenu
Bandenna Vadanadi Nindu Naamava Nudise
Akhila Vidyabhimani Ajana Pattada Rani
Sukhavitthu Paalise Sujana Shiromani
Pathitha Paavane Nee Gathiyendu Nambide
Sathatha Purandara Vittalana Thore
15. Sharanembe Vani Poreye Kalyani
Sharanembe Vani Poreye Kalyani
Vagabhimani Vara Brahmaani
Sundaraveni Sucharithraani
Jagadolu Nimma Pogaluvenamma
Hariya Thorisendu Prarthipenamma
Paaduve Shruthiya Beduve Mathiya
Purandara Vittalana Hiriya [Sodara] Soseya
Comments
comments