August 31, 2018
Maneyanu Belagide Indu Song Lyrics | Chandanada Gombe
Maneyanu Belagide Indu Song Lyrics | Chandanada Gombe: Maneyanu Belagide Indu Song was composed by Rajan–Nagendra for the 1979 Kannada film Chandanada Gombe, directed by Dorairaj and Bhagwan famously known as Dorai-Bhagwan. The film was produced by N. Bhaktavatsalam, N. Ramachandra, Dorairaj and S. K. Bhagavan under the banner Sri Manthralaya Art Movies. The film is based on the novel of the same name written by T. R. Subba Rao.
Chandanada Gombe features actors Ananth Nag, Lakshmi, K. S. Ashwath, Lokesh, Sundar Raj, Mysore Lokesh, Savitri, Uma Shivakumar, Sampath, Rajanand, Shivaprakash, Kunigal Ramanath, M S Sathya, Adonilakshmi, Shanthamma, Baby Archana, Baby Sushma, Sundarashree and others. Saregama is the music label of this movie. Maneyanu Belagide Indu Song was rendered by all time great playback singers S. P. Balasubramanyam and S. Janaki.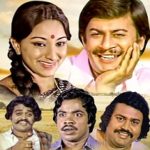 Maneyanu Belagide Indu Lyrics  
Album: Chandanada Gombe [1979]
Music Label: Saregama
Music: Rajan–Nagendra
Lyrics: Chi. Udaya Shankar
Singers: S. P. Balasubramanyam, S. Janaki
Check out the lyrics here..
Maneyanu Belagide Indu
Nee Bandu Sukha Thandu
Maneyanu Belagide Indu
Nee Bandu Sukha Thandu
Kannali Kalethe Usirali Berethe
Neenu Nannalli Seri Hode
Manavanu Thumbide Indu
Nee Bandu Hitha Thandu
Kannali Kalethe Usirali Berethe
Neenu Nannalli Seri Hode
Maneyanu Belagide Indu
Nee Bandu Sukha Thandu
Bere Yenu Bedada Haage
Modiya Nee Maadide
Ee Ninna Cheluva Ee Nanna Olava
Saviyalli Karagi Hode
Bere Yenu Kaanada Haage
Maayava Nee Maadide
Ee Ninna Roopa Nannedheya Deepa
Aadande Sothu Hode
Naanade Sothu Hode
Manavanu Thumbide Indu
Nee Bandu Hitha Thandu
Kannali Kalethe Usirali Berethe
Neenu Nannalli Seri Hode
Manavanu Thumbide Indu
Nee Bandu Hitha Thandu
Nooru Januma Maadida Punya
Ninnanu Naa Hondide
Nee Needi Harusha Nooraaru Varusha
Badhukuva Bayake Thande
Nodi Nodi Thaniyade Manavu
Dhaniyade Haadi Kunidide
Baalella Heege Baliyelle Iruva
Honnase Neenu Thande
Nee Nanna Jeeva Vaade
Maneyanu Belagide Indu
Nee Bandu Sukha Thandu
Kannali Kalethe Usirali Berethe
Neenu Nannalli Seri Hode
Manavanu Thumbide Indu
Nee Bandu Hitha Thandu
La Laa La
Chandanada Gombe Songs
Akashadinda Dharegilida Rambe
Ee Binka Bidu Bidu
Maneyanu Belagide Indu
Kangalu Thumbiralu
Comments
comments