May 17, 2021
Purandaradasara Keerthanegalu | Purandara Dasa Songs | Bhakthi Geethegalu 9
Purandaradasara Keerthanegalu | Purandara Dasa Songs | Bhakthi Geethegalu 9: Purandara Dasaru was a great saint and poet from Karnataka. He was a Haridasa – a great devotee of Lord Krishna. He was a composer, singer and one of the chief founding proponents of Carnatic music.
Purandara Dasaru was not only a poet but he is regarded as Sangeeta Pitamaha of Carnatic music. His contribution to Carnatic music and Dasa Saahityha [Dasa Literature] is immense. 'Purandara Vittala' is his pen name or Ankitanama. Purandara Dasa's aradhana or punyadina is held on the pushya bahula amavasya of the Indian chandramana calendar [February-March].
He has composed plenty of devaranamas, Keerathanas, Padagalu. Most of his songs are in praise of Lord Naraayana and other Devatas. Purandara Dasaru has composed lots of Keerathanas on various Gods like Krishna, Rama, Narasimha, Srinivasa, Hari, Panduranga, Shiva, Ganapathi, Mahalakshmi, Thulasi, Hanumantha, Saraswathi, Ganga, Bharathi, and others.
Here we have made an effort to provide some of the Purandaradasara Keerthanegalu on Goddess Mahalakshmi here. Lets look at the following Purandaradasara Krithis..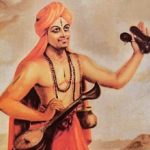 Purandaradasara Keerthanegalu – Part 9
40. Enu Dhanyalo Lakumi
41. Paalise Enna Shri Mahalaksmi
42. Intha Hennina Naanelli Kaanenu
43. Marulu Maadikondeyalle Maayadeviye
44. Shri Mahalakshmiya Alankarisi Karedaru
40. Enu Dhanyalo Lakumi
Enu Dhanyalo Lakumi
Yentha Maanyalo
Saanu Raagadinda Hariya
Thaane Seve Maadu Tihalu
Koti Koti Bhrutyariralu
Haatakaambarana Seve
Saatiyillade Maadi
Poorna Nootadinda Sukhisutihalu
Chatra Chaamara Vyajana Paryanka
Paathra Roopadalli Ninthu
Chitra Charithanaada Hariya
Nithya Seve Maadutihalu
Sarvasthaladhi Vyaapthanaada
Sarva Dosharahithanaada
Sarva Vandhyanaada Purandara
Vittalanna Sevisuvalo
41. Paalise Enna Shri Mahalaksmi
Paalise Enna Shri Mahalaksmi
Paalise Ennanu Paalabhdi Sanjaathe
Lalithaangi Shubhe Devi Mangale Devi
Vedabhimaani Saarasaakhsi Shridhara Ramani
Kaaduko Ninnaya Paada Sevakarannu
Adi Shakti Sarvadhare Gunapoorne
Dayadinda Node Bhajipa Bhaktara Bhaya Dura Madhe
Daya Palise Maathe Trailokya Vikhyaathe
Jaya Devi Suvrathe Hayavadanana Preethe
Neenalladhanya Rakshiparanu Kaane Na Munna
Daanavaantaka Siri Purandara Vittalana
Dhyaanipa Bhakutara Maana Ninnadu Thaaye
42. Intha Hennina Naanelli Kaanenu
Intha Hennina Naanelli Kaanenu
Honthakaari Kaaniro
Santhatha Surarige Peeyusha Unisida
Pankthiyolage Paravanchane Maadida
Mandaragiri Tandu Sindhuvinolagittu
Chandadi Kadedu Amruthava Tegedu
Indumukhi Nee Badisendu Kottare
Dandhanagala Maadi Daithyara Vanchisida
Vishvaasadindali Asurage Varavitthu
Trishooladhara Odi Balaluthire
Nasunaguthali Bandu Bhasmasuranige
Bhogadaaseya Thori Bhasmava Maadida
Vasudheyolu Hennu Osageyaagada Munna
Basirali Brahmana Padedavalivalu
Kusumanaabha Sri Purandara Vittala
Pesaru Potthihalu Ee Posa Kannikeyu
43. Marulu Maadikondeyalle Maayadeviye
Marulu Maadikondeyalle Maayadeviye
Irulu Hagalu Ekavaagi Hariyu Ninna Bidadippanthe
Gnanigalu Nithya Paanaadigalannu Bittu
Naana Vidha Thapaviddaru Dhyaanakke Silukadavana
Sarva Sanga Bittu Sanyaasiyaada Kaalakku
Sarvada Tannedeya Mele Bidade Ninna Dharisippanthe
Pralaya Kaaladalli Aaladeleya Mele Malagiddaaga
Halavu Abharanagalu Jalavu Aagi Jaanathanadi
Ranganu Bhoolokadi Bhujanga Giriyolala
Melu Mangapathiyaagi Ninna Angikarisuvanthe
Makkala Padedare Ninna Chokkathanavu Popudendu
Pokkulolu Makkala Padedu Kakkulaathi Paduvanthe
Edake Bhoomi Balake Shreeyu Eduralli Durga Devi
Thodeya Mele Lakumiyaagi Bidade Muddaadisuvanthe
Endendigu Mareye Ninnaanandadi Janarigella
Tandu Thore Svaadheena Purandara Vittalaraayana
44. Shri Mahalakshmiya Alankarisi Karedaru
Shri Mahalakshmiya Alankarisi Karedaru
Shri Mahalakshmiya Alankarisi Karedaru
Keshava Nimma Naama Mangalyasoothra Thaali
Narayana Nimma Naama Thaali Padakavu
Madhava Nimma Naama Surage Sampige Moggu
Govinda Nimma Naama Godhiya Saravu
Shri Mahalakshmiya Alankarisi Karedaru
Vishnuve Nimma Naama Rathna Kundalagalu
Madhusudana Nimma Naama Maanikyada Haralu
Trivikrama Nimma Naama Vanki Nagamurugiyu
Vaamana Nimma Naama Ole Ekavaliyu
Shri Mahalakshmiya Alankarisi Karedaru
Shridhara Nimma Nama Olle Mutthina Haara
Hrushikesha Nimma Nama Kadaga Gejjeyu
Padmanabha Nimma Nama Mutthinaddikeyu
Damodhara Nimma Nama Rathnada Padakavu
Shri Mahalakshmiya Alankarisi Karedaru
Sankarshana Nimma Nama Vanki Tholaayithu
Vaasudeva Nimma Nama Olida Thode
Pradyumna Nimma Nama Hasthakankana Bale
Aniruddha Nimma Nama Mukura Bulaaku
Shri Mahalakshmiya Alankarisi Karedaru
Purushottama Nimma Nama Hosa Muttina Mooguthi
Adhokshaja Nimma Nama Chandra Soorya
Narasimha Nimma Nama Chouri Raagati Gondya
Achyuta Nimma Nama Muttina Bottu
Shri Mahalakshmiya Alankarisi Karedaru
Janardana Nimma Naama Jariya Peethaambara
Upendra Nimma Naama Kadaga Gejjeyu
Shrihari Nimma Naama Kanchu Ankiya Tulasi
Shrikrishna Nimma Naama Naduvinodyaanavu
Shri Mahalakshmiya Alankarisi Karedaru
Sarasijaaksha Nimma Naama Arasina Enne Hachchi
Pankajaaksha Nimma Naama Kumkuma Kaadigeyu
Purandara Vittala Nimma Naama Sarvaabharanavu
Niluvugannadiyali Lalaneya Thorisutha
Shri Mahalakshmiya Alankarisi Karedaru..
Comments
comments