November 15, 2023
Darshan Unveils First Look of His Next Film Devil
Darshan Unveils First Look of His Next Film Devil: Kannada actor is all set to captivate audiences once again with his upcoming venture, "Devil: The Hero," directed by Prakash Veer of "Milana" fame. The film, announced on November 2nd, marks the second collaboration between Darshan and Prakash after their successful stint with "Tarak" in 2017.
"Devil: The Hero" promises a thrilling cinematic experience, with music by Ajaneesh Loknath composing the soundtrack and Santhosh Rai Pathaje handling cinematography duties. The film's muhurta ceremony took place at the auspicious Dodda Mahaganapathi Temple in Bengaluru, setting the stage for what is expected to be another blockbuster in Darshan's career.
Fans are already buzzing with anticipation, considering the success of the Darshan-Prakash Veer duo collaboration in their previous film. The on-screen chemistry they displayed in "Tarak" left a lasting impression, making "Devil: The Hero" one of the most awaited releases in the Kannada film industry.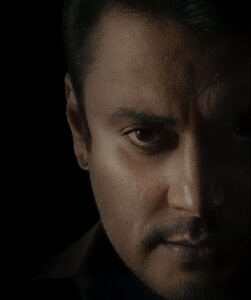 While Darshan fans eagerly await the Devil's arrival on the silver screen, the actor is currently immersed in the shooting of "Kaatera" in Gujarat. Directed by Tharun Sudhir, "Kaatera" is generating significant buzz, especially with the debut of Aaradhana Ram, daughter of the late Sandalwood actress and producer Ramu, as the female lead alongside Darshan.
"Kaatera" is the second collaboration between Darshan and Tharun Sudhir after the 2021 action-packed drama "Roberrt." The film is poised to make waves with its engaging storyline and powerful performances.
In a recent break from his hectic schedule, Darshan graced the launch of the trailer for Yogaraj Bhatt's film, "Garadi," in which he made a special appearance. Known for his straightforward and bold attitude, Darshan won hearts when, during the Kannada Rajyotsava celebration in Ranebennur, he invited a fan named Soumya to the stage to release the trailer of "Garadi."
Darshan's gesture not only showcased his humility but also reinforced the strong bond he shares with his fans. With "Devil: The Hero" on the horizon and "Kaatera" creating a buzz, Darshan continues to be a powerhouse in the Kannada film industry, leaving audiences eagerly awaiting his next movie.
Comments
comments