April 7, 2018
O Sanje Sanjeye Horadadiru Lyrics
O Sanje Sanjeye Horadadiru Lyrics: O Sanje Sanjeye Horadadiru is a song from an upcoming 2018 Kannada movie Asathoma Sadgamaya, directed by Rajesh Vennur. The film was produced by Ashwin J Pereira Moodbidri and Melissa D Souza under the banner I Care Movies. This is the maiden venture of this production banner. Asathoma Sadgamaya features Radhika Chetan, Kiran Raj, Lasya Nagaraj, Deepak Shetty, Baby Chitrali and others.
Singer Aalaap Raju became a sensation through the Tamil song Enamo Aedho from the movie KO, composed by Harris Jayaraj. He won Filmfare Award for Best Male Playback Singer for this song. He was born on 6 June 1979 in a family of musicians. His interest in music started in his college days. some of his notable songs includes Engeyum Kadhal, Vaaya moodi summa iru da, Akila Akila and others.
Aanand Audio is the audio label of this movie. This song was composed and written by Wahab Salim. O Sanje Sanjeye Horadadiru song was rendered by Aalap Raju and Padmalatha.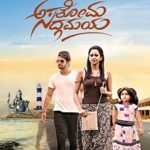 O Sanje Sanjeye Horadadiru Lyrics
Movie: Asathoma Sadgamaya [2018]
Audio Label: Aananda Audio Video
Music: Wahab Salim
Lyrics: Wahab Salim
Singers: Allap Raju, Padmalatha
Check out the lyrics here..
O Sanje Sanjeye Horadadiru
O Manje Manje Chaduradiru
Nee Oragalu Node Ona Maragalu Chigurithu Neralidalu
Adakene Yellellu Thampanthe Anisuthide
Oo Kannina Bhasheli Manadi Putadi
Kavana Bare Nee
Naa Ninnanu Nodutha Helo Ee Kathege
Gamana Kodu Nee
Mincheseyuva Nin Kanna Dhaalige
Modagala Koleyaagide Adu Modala Maleyaagide
Madhu Maasada Hakkigalellavu
Khushiyinda Sabhe Karedide
Nama Prema Kathe Helide
Aa Kannina Bhasheli Manadi Putadi
Kavana Bare Nee
Naa Ninnanu Nodutha Helo Ee Kathege
Gamana Kodu Nee
Ninnolumeyo Makarandavo
Heeroke Jhenkarisutha
Mana Dumbi Hata Hididide
Ninna Paadake Ale Chumbisi
Kadale Panneeragide
Ee Vyakhyana Heganiside
O Sanje Sanjeye Horadadiru
O Manje Manje Chaduradiru
Nee Oragalu Node Ona Maragalu Chigurithu Neralidalu
Adakene Yellellu Thampanthe Anisuthide
Aa Kannina Bhasheli Manadi Putadi
Kavana Bare Nee
Naa Ninnanu Nodutha Helo Ee Kathege
Gamana Kodu Nee
Asathoma Sadgamaya Kannada Movie Song Lyrics
Scriptu Baredonu Pattad Myale
O Sanje Sanjeye Horadadiru
Na Therede Thumba Haleya Putava
Tinga Linga
Asathoma Sadgamaya
Comments
comments