April 7, 2018
Tinga Linga Kannada Song Lyrics
Tinga Linga Kannada Song Lyrics: Tinga Linga is a song from an upcoming 2018 Kannada movie Asathoma Sadgamaya, directed by Rajesh Vennur. The film was produced by Ashwin J Pereira Moodbidri and Melissa D Souza under the banner I Care Movies. This is the maiden venture of this production banner. Asathoma Sadgamaya features Radhika Chetan, Kiran Raj, Lasya Nagaraj, Deepak Shetty, Baby Chitrali and others.
Aanand Audio is the audio label of this movie. This song was composed and written by Wahab Salim. Tinga Linga Kannada Song song was rendered by Singer Vaishnavi.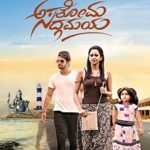 Tinga Linga Lyrics
Movie: Asathoma Sadgamaya [2018]
Audio Label: Aananda Audio Video
Music: Wahab Salim
Lyrics: Wahab Salim
Singer: Vaishnavi
Check out the lyrics here..
Appiya Pappiya Papabababa
Jappiya Pappya Papabababa
Appida Pappida Papabababa
Jappida Pappida Papabababa
Tinga Linga Linga Linga Linga Ling |2|
Muddu Muddu Kanasu
Eddu Biddu Nagutha
Colour Colour Kanasu Kaanuva Kaala
Kaddu Kaddu Pisugudo Kaddu Kaddu Guttanu
Saddillade Kaddu Muchchi Keluva Kaala
Sakala Bageya Thereda Jagava
Angaili Thikaani Hoodide
Safala Vifala Ragale Jagala
Namge Chukkaniyallide
Kanasalli Kandidda Aa Neralondu
Colourful Aagi Kuniyuthitthu Huch Hucchagi
Zingak Zingaku Zinga
Tinga Linga Linga Linga Linga |2|
Avalakki Pavalakki Kanchana Mina Mina
Dum Dum Dum Pee Pi Pi Pee |2|
Aase Hoththa Gaali Gopura
Aa Baana Maili Gallu Daatide
Meese Hutto Munno Uththara
Ee Muddu Preethi Naada Meetide
Aa Burude Jungle-U Alli Thumba Kapigalu
Cheshte Buddi Needalu
Ee Burude Simple-U Aatakene Meesalu
Oora Haadi Beedilu
Maathella Bhari Shaane
Aatota Madhura Vene
Mungaaru Thanthu Sone
Thoyd Hoythu Baala Chinnara Minnara Sene
Tinga Linga Linga Linga Linga Ling |2|
Entha Chanda Namma Baalu
Aa Naale Embudelli Helu
Onde Bhanu Onde Bhoomi
Ee Madhye Namma Aata Swamy
Rangu Rangin Aatake
Namma Peekalaatake Yellu Illa Holike
Marelaagadendigu Baalu Yemba Pathrikeya
Balya Yemba Sanchike
Maathella Bhari Shaane
Aatota Madhura Vene
Mungaaru Thanthu Sone
Thoyd Hoythu Baala Chinnara Minnara Sene
Tinga Linga Linga Linga Linga |2|
Asathoma Sadgamaya Kannada Moive Song Lyrics
Scriptu Baredonu Pattad Myale
O Sanje Sanjeye Horadadiru
Na Therede Thumba Haleya Putava
Tinga Linga
Asathoma Sadgamaya
Comments
comments