April 7, 2018
Asathoma Sadgamaya Kannada Song Lyrics
Asathoma Sadgamaya Kannada Song Lyrics: Asathoma Sadgamaya is a Kannada Song from an upcoming 2018 Kannada movie Asathoma Sadgamaya, directed by Rajesh Vennur. The film was produced by Ashwin J Pereira Moodbidri and Melissa D Souza under the banner I Care Movies. This is the maiden venture of this production banner. Asathoma Sadgamaya features Radhika Chetan, Kiran Raj, Lasya Nagaraj, Deepak Shetty, Baby Chitrali and others.
The leading actress of this movie Radhika Chetan of Rangitaranga fame, was born in Mysore, Karnataka. She graduated from Vidya Vikas Institute of Engineering & Technology, Mysore. She made her sandlehood debut in 2015 through the super hit Kannada movie Rangi Taranga directed by Anup Bhandari. Some of her notable works are U Turn, BB5, Kaafi Thota, Hotegagi Genu Bategagi. She is doing special appearnece in Shivraj Kumar's upcoming movie The Villain.
Aanand Audio is the audio label of this movie. This song was composed and written by Wahab Salim. Asathoma Sadgamaya Kannada Song  was rendered by Singer Prajoth.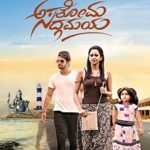 Asathoma Sadgamaya Lyrics
Movie: Asathoma Sadgamaya [2018]
Audio Label: Aananda Audio Video
Music: Wahab Salim
Lyrics: Wahab Salim
Singer: Prajoth
Check out the lyrics here..
Muriyali Mouna
Molagali Saddu Maado Gaana
Great Indiana
Vishwakene Raajanaagisona
Pangada Beda Ella Sangadavaagabeku
ninnodalali Desha Prema Gida Nedabeku
Asathyadinda Sathyadedege
Baralebeku Manave Baa Baa Baa
Asato Ma Sadgamaya Asato Ma Sadgamaya |2|
Ellanu Illi Sari Illa Yendu
Niraashe Beda Baa Mundu Nillu
Idu Muththu Rathnagala Beedu
nee mannisu
Virchassigaagi Nee Henagabeda
Yashassu Mukhya Adu Mareyabeda
Oo Moudhya Thumbida Managale Aalisi
Asathyadinda Sathyadedege
Baralebeku Manave Baa Baa Baa
Asato Ma Sadgamaya Asato Ma Sadgamaya |2|
Ee Sampathbharitha Naadu Namma Yoga
Nee Baarisoke Illi Bhrashta Roga
Anuguthiro Janagana Raaga Munjavave
Birugaali Chalige Yede Setedu Ninthu
Eduraali Sulige Seddodedu Geddu
Namma Shanthi Kaayo Sainikanige
Abhimaanave
Asathyadinda Sathyadedege
Baralebeku Manave Baa Baa Baa
Asato Ma Sadgamaya Asato Ma Sadgamaya |8|
Asathoma Sadgamaya Kannada Moive Song Lyrics
Scriptu Baredonu Pattad Myale
O Sanje Sanjeye Horadadiru
Na Therede Thumba Haleya Putava
Tinga Linga
Asathoma Sadgamaya
Comments
comments