April 25, 2018
Raambo 2 Kannada Song Lyrics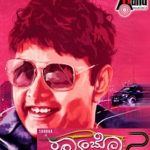 Raambo 2 Kannada Song Lyrics: Raambo 2 [Rambo 2] is an upcoming 2018 Kannada movie, directed by Anil Kumar. The film is being produced by Sharan and Atlanta Nagendra under the banner Laddoo Films. The movie is co-produced by Arjun Janya [music composer] and technicians Sudhakar Raj [cinematographer], K M Prakash [editor] will be working partners for the film.
Raambo 2 features Sharan, Ashika, Ranganath and others. Aanand Audio is the music label of this movie. All songs of this movie were composed by Arjun Janya with lyrics penned by Yogaraj Bhat, V. Nagendra Prasad, Shivu Beragi, Santosh Naik and Muthu. Songs were rendered by singers Vijay Prakash, Ravindra Soragavi, Shamitha Malnad, Mehboob Saab, Aditi Sagar and power star Puneeth Rajkumar.
Check out the lyrics here..
Bit Hogbeda Lyrics
Movie: Raambo 2 [2018]
Music: Arjun Janya
Music Label: Aanand Audio
Lyrics: Santosh Naik
Singer: Mehboob Saab
Elli Kaan Ellikaaneno Lyrics
Movie: Raambo 2 [2018]
Music: Arjun Janya
Music Label: Aanand Audio
Lyrics: Yogaraj Bhat
Singer: Puneeth Rajkumar
Chuttu Chuttu Lyrics
Album: Raambo 2 [2018]
Music Label: Aanand Audio
Music: Arjun Janya
Lyrics: Shivu Beragi
Singers: Ravindra Soragavi, Shamitha Malnad
Yavva Yavva Lyrics
Album: Raambo 2 [2018]
Music Label: Aanand Audio
Music: Arjun Janya
Lyrics: V. Nagendra Prasad
Singer: Vijay Prakash
Dum Maro Dum Lyrics
Album: Raambo 2 [2018]
Music Label: Aanand Audio
Music: Arjun Janya
Lyrics: Muthu
Singer: Aditi Sagar
Bellege Bellege Lyrics
Album: Raambo 2 [2018]
Music Label: Aanand Audio
Music: Arjun Janya
Lyrics: All.Ok
Singer: Chikkanna
Comments
comments