April 22, 2018
Nammoora Mandara Hoove Songs Lyrics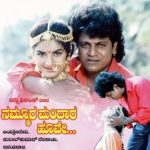 Nammoora Mandara Hoove Songs Lyrics: Nammoora Mandara Hoove is a 1997 Kannada movie, directed by Sunil Kumar Desai and produced by Jayashree Devi under the banner Chinni Films. Nammoora Mandara Hoove features Shivrajkumar, Ramesh, Prema, Ramesh Bhat, Avinash, Suman Nagarkar, Kashi, Praveen, Kavana, Kishori Ballal, Vinayaka Joshi, V T Hegde, Anantha Hegde, Lalitha Hegde, Sripathi Ballal, Renukamma Murugod, Kaminidharan and others.
Lahari Music is the music label of this movie. All song of this movie were composed by maestro Ilaiyaraaja with lyrics penned by K. Kalyan, Doddarange Gowda, V. Manohar and M. S. Patil. Songs of this album were rendered by singers S. P. Balasubramanyam, K. S. Chithra and Manjula Gururaj.
Check out the lyrics here..
Halli Laavaniyali Laali Lyrics
Movie: Nammoora Mandara Hoove [1997]
Music Label: Lahari Music
Music: Ilaiyaraaja
Lyrics: K. Kalyan
Singers: S. P. Balasubramanyam, K. S. Chithra
Mutthu Mutthu Neera Haniya Lyrics
Movie: Nammoora Mandara Hoove [1997]
Music Label: Lahari Music
Music: Ilaiyaraaja
Lyrics: K. Kalyan
Singers: S. P. Balasubramanyam, K. S. Chithra
Hele Kogile Lyrics
Movie: Nammoora Mandara Hoove [1997]
Music Label: Lahari Music
Music: Ilaiyaraaja
Lyrics: K. Kalyan
Singer: K. S. Chithra
Dheem Thakita Lyrics
Movie: Nammoora Mandara Hoove [1997]
Music Label: Lahari Music
Music: Ilaiyaraaja
Lyrics: V. Manohar
Singer: S. P. Balasubramanyam
Omkaaradi (Duet) Lyrics
Movie: Nammoora Mandara Hoove [1997]
Music Label: Lahari Music
Music: Ilaiyaraaja
Lyrics: V. Manohar
Singers: Ilaiyaraaja, K. S. Chithra
Omkaaradi (Female) Lyrics
Movie: Nammoora Mandara Hoove [1997]
Music Label: Lahari Music
Music: Ilaiyaraaja
Lyrics: M. S. Patil
Singer: K. S. Chithra
Manadaase Hakkiyaagi Lyrics
Movie: Nammoora Mandara Hoove [1997]
Music Label: Lahari Music
Music: Ilaiyaraaja
Lyrics: Doddarange Gowda
Singers: S. P. Balasubramanyam, Manjula Gururaj
Comments
comments