January 4, 2018
Daya Maado Ranga Lyrics
Daya Maado Ranga Lyrics: Daya Maado Ranga is a song from the 1994 Kannada movie Yaarigu Helbedi, directed by Kodlu Ramakrishna. Yaarigu Helbedi features Anant Nag, Vinaya Prasad, Mukhyamantri Chandru, Vaishali Kasaravalli, Vanitha Vasu, Shivaram, Ramakrishna, Doddanna, Lokesh, Girija Lokesh, Satyabhama and others. Jhankar Music was the music label of this movie.
This song was composed by Rajan–Nagendra with lyrics penned by R. N. Jayagopal. Daya Maado Ranga was rendered by G. Asha.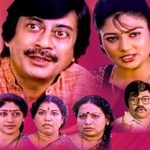 Daya Maado Ranga Lyrics
Movie: Yaarigu Helbedi [1994]
Music Label: Jhankar Music
Music: Rajan–Nagendra
Lyrics: R. N. Jayagopal
Singers: G. Asha
Check out the lyrics here..
Daya Maado Ranga Daya Maado
Daya Maado Ranga Daya Maado
Daya Maado Ranga Daya Maado
Daya Maado Ninna Daasiyu Naanendu
Daya Maado Ranga Daya Maado
Ninnaya Poojege Hoovaagiruve
Daasiya Seveya Sweekariso
Ninnaya Poojege Hoovaagiruve
Daasiya Seveya Sweekariso
Paadada Theerthavo Paapava
Neegi Paavanagolisi Udhdhariso
Dayamaado Ranga Daya Maado
Daya Maado Ninna Daasiyu Naanendu
Daya Maado Ranga Daya Maado
Pancha Bhakshya Paramaannava Badisuve
Paramaathma Ninage Nivedisuve
Pancha Bhakshya Paramaannava Badisuve
Paramaathma Ninage Nivedisuve
Avalakki Savidu Aishvarya Thande
Vidurana Bhakuthige Neenolide
Dayamaado Ranga Daya Maado
Daya Maado Ninna Daasiyu Naanendu
Daya Maado Ranga Daya Maado
Shesha Shayanane Shree Ranganaathane
Aashanuraagava Aalisi Pavadiso
Shesha Shayanane Shree Ranganaathane
Aashanuraagava Aalisi Pavadiso
Yelelu Janumadalu Ninnane Honduva
Bhagyava Needo Dhanyala Maado
Dayamaado Ranga Daya Maado
Daya Maado Ninna Daasiyu Naanendu
Daya Maado Ranga Daya Maado
Yarigu Helbedi Song Lyrics
Daya Maado Ranga
Olle Kaala Baruthalide
Hogu Manase Hogu Nalle Balige
Namma Mane Swantha Mane
Comments
comments