August 17, 2022
Purandaradasara Keerthanegalu | Purandara Dasa Songs Part 13
Purandaradasara Keerthanegalu | Purandara Dasa Songs Part 13: Purandara Dasaru was a great saint and poet from Karnataka. He was a Haridasa – a great devotee of Lord Krishna. He was a composer, singer and one of the chief founding proponents of Carnatic music.
Purandara Dasaru was not only a poet but he is regarded as Sangeeta Pitamaha of Carnatic music. His contribution to Carnatic music and Dasa Saahityha [Dasa Literature] is immense. 'Purandara Vittala' is his pen name or Ankitanama. Purandara Dasa's aradhana or punyadina is held on the pushya bahula amavasya of the Indian chandramana calendar [February-March].
He has composed plenty of devaranamas, Keerathanas, Padagalu. Most of his songs are in praise of Lord Naraayana and other Devatas. Purandara Dasaru has composed lots of Keerathanas on variuos Gods like Krishna, Rama, Narasimha, Srinivasa, Hari, Panduranga, Shiva, Ganapathi, Mahalakshmi, Thulasi, Hanumantha, Saraswathi, Ganga, Bharathi, and others.
Here we have made an effort to provide some of the Purandaradasara Keerthanegalu on Sri Madhwaraya here. Lets look at the following Purandaradasara Krithis..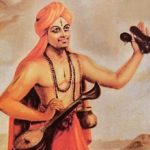 Purandaradasara Keerthanegalu – Part 13
61. Gokuladolu Ninna Magana
62. Hannu Bandide Kolliri Neeveega
63. Kadagola Thaarenna Chinnave
64. Krishnamurthi Kanna Munde Nintidantide
65. Devaki Kanda Mukunda
61. Gokuladolu Ninna Magana Lyrics
Gokuladolu Ninna Magana Haavali Ghanavaayithamma
Joke Maadiko Intha Dhurulatanake Naavu Nillevamma
Baalara Odagoodi Bandemma Manegala Poguvanamma
Orala Meleri Neluvina Melidda Benneya Meluvanamma
Jaalava Maadi Ellariginda Thaa Munne Jaarvanamma
Gopala Bedendu Helidare Ivage Buddhi Saaladamma
Gandanullavalendu Bedikondare Maatha Kelanamma
Ee Pundugaara Namma Puravanella Sooregondanamma
Gandarellaru Ivana Nodi Tamhendira Biduvaramma
Kanda Kanda Veleyalli Chikka Cheluveyara Koodvanamma
Maaraleesanu Haalu Mosara Kandare Bittu Baaranamma
Thanna Vaarige Sathiyara Olisikomba Maayagaaranamma
Naari Kelivana Nadathe Yaarigu Sari Baaradamma
Namma Marajanaka Purandaravitallaraya Jaaranamma
---
62. Hannu Bandide Kolliri Neeveega Lyrics
Hannu Bandide Kolliri Neeveega
Chenna Balakrishnanembo Chennaada Baaleya Hannu
Havyakavyada Hannu Saviva Sakkare Hannu
Bhavarogagalanella Kaleva Hannu
Navaneetha Choranemba Yamana Amjipa Hannu
Avaniyolu Sriramanembo Hannu
Kolethu Hoguvudalla Hulithu Hoguvudalla
Kaledu Bisaadisi Kolluvudalla
Aledu Kombuvudalla Gili Kacchi Thimbodalla
Olithaada Hariyembo Maavina Hannu
Kettu Naruvudalla Bitthi Beleyodalla
Kashtadi Hana Kottu Kombuvudalla
Srushtiyolage Namma Purandaravittala
Krishnarayanembo Shreshtavaada Hannu
---
63. Kadagola Thaarenna Chinnave Lyrics
Kadagola Thaarenna Chinnave
Mosarodedare Benne Baaradu Rannave
Annana Odagondu Baarayya
Savi Savi Benneya Muddeya Meluviranthe
Banna Sarava Ninna Koralige Haakuve
Chinnarodane Aada Kaluhuve Ranga
Putta Boochiya Tandu Ninnaya
Tottila Kaalige Kattisuve
Battalu Tumbida Sakkare Ninageeve
Kattaani Muddina Kaniye Baa Rama
Badavara Bhagyada Nidhiye Gokulada
Ennpdeya Makkala Maanikave
Kodu Muudu Purandaravttala Krishnayya Nee
Pengadalolu Duduku Maduvarenu Ranga
---
64. Krishnamurthi Kanna Munde Nintidantide Lyrics
Krishnamurthi Kanna Munde Nintidantide
Kashtagalella Pariharisi Mana-
Dishtarthagalanella Kottu Rakshisuvantha
Mastakadali Maanikyada Kireeta
Kasturi Tilakadindeseva Lalaata
Shistili Kolalanooduva Ore Nota
Kaustuba Edabaladali Olaata
Maghamaghisuva Sobagina Suligurulu
Chiguru Tulasi Vanamaleya Koralu
Bage Bage Honnunguravitta Beralu
Sobagina Naabhiya Thavare Yaralu
Ududaara Vaddyaana Nikhilaabharana
Uduge Peethambara Ravishatha Kirana
Kadaga Noopura Gejjegalanitta Charana
Odeya Sripurandara Vittalana Karuna
---
65. Devaki Kanda Mukunda Lyrics
Devaki Kanda Mukunda
Nigamoddhaara Navaneetha Chora
Khagapati Vahana Jagadoddhara
Shankha Chakradhara Shri Govinda
Pankaja Lochana Paramananda
Makara Kundaladhara Mohana Vesha
Rukumini Vallabha Pandava Posha
Kamsa Mardana Kaustubhabharana
Hamsa Vaahana Poojitha Charana
Vara Velapura Chenna Prasanna
Purandara Vittala Sakala Guna Purna
Tholu Tholu Ranga Lyrics | Purandaradasara Keerthanegalu Part 11
Comments
comments