August 10, 2020
Thoogire Rangana Thoogire Krishnana Song Lyrics | Purandara Dasaru
Thoogire Rangana Thoogire Krishnana Song Lyrics | Purandara Dasaru: Thoogire Rangana Thoogire Krishnana is  famous composition by Shri Purandara Dasaru. He was a Haridasa – a great devotee of Lord Krishna. Thoogire  Rangana Thoogire Krishnana song was rendered by many artists including Dr. Vidyabhushana and others over the years.
Lord Krishna as we all know is a major deity in Hinduism and is one of the most popular and widely worshiped god. He is the eighth avatar in Ten Avatars [Dasahavataram] of Lord Vishnu. He is considered as the god of compassion, tenderness, and love.
Lord Krishna's birthday is celebrated as Krishna Janmashtami. This festival is celebrated in different parts of India in different names such as Gokulashtami, Yadukulashtami, Saatam Aatham, and Srikrishna Jayanti. This years Krishna Janmashtami 2020 date is August 11th. Wish you all a very happy Krishna Janmashtami.
Purandara Dasaru was not only a poet but he is regarded as Sangeeta Pitamaha of Carnatic music. His contribution to Carnatic music and Dasa Saahityha [Dasa Literature] is immense. 'Purandara Vittala' is his pen name or Ankitanama.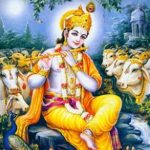 Song: Thoogire Rangana Thoogire Krishnana
Composer: Purandara Dasaru
Singers: Various
Genre: Devotional
Lord: Krishna
Language: Kannada
Check out the lyrics here..
Thoogire Rangana Thoogire Krishnana
Thoogire Achyutaananthana
Thoogire Rangana Thoogire Krishnana
Thoogire Achyutaananthana
Thoogire Varagiriyappa Thimmappana
Thoogire Kaveri Rangayyana
Thoogire Rangana Thoogire Krishnana
Thoogire Achyutaananthana
Naagalokadalli Narayana Malagyane
Naga Kannikeyaru Thoogire
Naagalokadalli Narayana Malagyane
Naga Kannikeyaru Thoogire
Nagaveniyaru Nena Pididukondu
Begane Thottila Thoogire
Thoogire Rangana Thoogire Krishnana
Thoogire Achyutaananthana
Indra lokadallupendra Malagyane
Indumukhiyarella Thoogire
Indra lokadallupendra Malagyane
Indumukhiyarella Thoogire
Indra Kannikeyaru Chandadi Bandu
Mukundana Thottila Thoogire
Thoogire Rangana Thoogire Krishnana
Thoogire Achyutaananthana
Aaladeleya Mele Shrilola Malagyane
neelakuntaleyaru Thoogire
Aaladeleya Mele Shrilola Malagyane
neelakuntaleyaru Thoogire
yaala shayana Hari Malagu Malagu endu
Bala Krishnayyana Thoogire
Thoogire Rangana Thoogire Krishnana
Thoogire Achyutaananthana
Saasira Naamane Sarvotthamanendu
Soosuttha Thottila Thoogire
Saasira Naamane Sarvotthamanendu
Soosuttha Thottila Thoogire
Lesagi Maduvinol Sheshana Thuliditta
Dosha Vidurana Thoogire
Thoogire Rangana Thoogire Krishnana
Thoogire Achyutaananthana
Aralele Magayi Korala Muththina Hara
Tharalana Thottila Thoogire
Aralele Magayi Korala Muththina Hara
Tharalana Thottila Thoogire
Siridevi Ramanane Purandara Vithalane
Siridevi Ramanane Purandara Vithalane
Karunadi Malagendu Thoogire
Thoogire Rangana Thoogire Krishnana
Thoogire Achyutaananthana
Thoogire Varagiriyappa Thimmappana
Thoogire Kaveri Rangayyana
Thoogire Rangana Thoogire Krishnana
Thoogire Achyutaananthana
Comments
comments