August 13, 2017
Chikkejamanru Songs Lyrics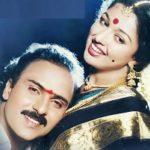 Chikkejamanru Songs Lyrics: Chikkejamanru is a 1992 Kannada movie, directed by Om Sai Prakash. Chikkejamanru features V. Ravichandran, Gowthami, Jai Jagadish, Shivakumar, Vijay, Mukyamanthri Chandru, Tennis Krishna, Sarigama Viji, Shubha, Srilalitha, Manasa, Malathi, Kamanidharan, Chethan Ramarao, Kunigal Nagabhushan and others. The film is a remake of Tamil film Chinna Gounder directed by R. V. Udayakumar and starring Vijayakanth and Sukanya.
The film was also remade in Telugu as Chinarayudu starring Venkatesh and Vijayashanti. The songs were composed and lyrics written by Hamsalekha. The songs for Chikkejamanru were rendered by S. P. Balasubrahmanyam, S. Janaki, Mano and K. S. Chithra.
Check out the lyrics here..
Rama Rama Rama Lyrics
Movie: Chikkejamanru
Music Lable: Akash Audio
Music: Hamsalekha
Lyrics: Hamsalekha
Singers: S. P. Balasubrahmanyam, S. Janaki
Nammoora Nyaya Devaru Lyrics
Movie: Chikkejamanru
Music Lable: Akash Audio
Music: Hamsalekha
Lyrics: Hamsalekha
Singers: Mano, K. S. Chithra
Buguri Buguri Lyrics
Movie: Chikkejamanru
Music Lable: Akash Audio
Music: Hamsalekha
Lyrics: Hamsalekha
Singer: S. P. Balasubrahmanyam
Premada Hoogara Lyrics
Movie: Chikkejamanru
Music Lable: Akash Audio
Music: Hamsalekha
Lyrics: Hamsalekha
Singer: S. P. Balasubrahmanyam
Sobane Enniramma Lyrics
Movie: Chikkejamanru [1992]
Music Lable: Akash Audio
Music: Hamsalekha
Lyrics: Hamsalekha
Singers: S. P. Balasubrahmanyam, S. Janaki
Rama Rama Rama (sad) Lyrics
Movie: Chikkejamanru [1992]
Music Lable: Akash Audio
Music: Hamsalekha
Lyrics: Hamsalekha
Singers: S. P. Balasubrahmanyam, S. Janaki
Comments
comments