July 10, 2018
Yenammi Yenammi Song Lyrics Video Released | Ayogya
Yenammi Yenammi Song Lyrics Video Released | Ayogya : Yenammi Yenammi is a Kannada song from an upcoming 2018 Kannada movie Ayogya, directed by Mahesh Kumar and produced by T. R. Chandrashekar under Crystal Park Cinemas banner.
Ayogya is a romantic comedy movie, features Sathish Ninasam, Rachitha Ram, P. Ravi Shankar, Tabla Nani, Chikkanna, Shivaraj K. R. Pete, Saritha, Rangayana Raghu and others. Aananda Audio is the music label of this movie.
This song was composed by Arjun Janya with lyrics penned by Chethan Kumar. Yenammi Yenammi Yaarammi Neenammi song was rendered by Vijay Prakash, Palak Muchhal.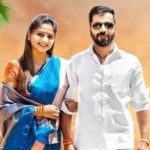 Yenammi Yenammi Lyrics
Movie: Ayogya [2018]
Music Label: Aananda Audio
Music: Arjun Janya
Lyrics: Chethan Kumar
Singers: Vijay Prakash, Palak Muchhal
Check out the lyrics here…
Yenammi Yenammi Yaarammi Neenammi
Aagoythu Nanna Baalu Hechchu Kammi Hechchu Kammi
Hechchu Kammi Hechchu Kammi |2|
Hoon Kanla Hoon Kanla Nangu Hange Aythu Kanla
Preethine Hinge Kanla Sumne Ondu Muththu Kodla
Beladinglu Neenenammi..
Laalina Haadlenammi
Lakshmi Hang Kaanthiyammi..
Drushtina Thegilenammi
Chennapatnad Gombege Jeevavu Baralu
Nin Hange Kaanthade Nodammi
Nee Muddu Kammi
Cheluvantha Chenniga Bhoopathi Raaya
Neenene Sobagu Hoo Kanla
Nee Raaja Kanla
Nam Preethi Bella Kammi..
Naavibru Yaarig Kammi
Nee Nakre Chanda Kanla..
Ee Jeeva Ninde Kanla
Beerappan Gudi Munde Harakeya Katti
Ninnane Bedide Ditta Kanla
Nannaane Kanla..
Kallina Basavanu Kann Hodithane
Neenandre Jaathare Kelammi
Vaiyyarammi..
Kaalungra Haaklenammi..
Hane Bottu Idlenammi
Yenandru Jaasthi Kanla
Nin Preethi Aasthi Kanla..
Ayogya [2018] Kannada Film Songs List
Song: Enammi Enammi
Lyrics: Chethan Kumar
Vocals: Vijay Prakash, Palak Muchhal
Song: Ayogya
Lyrics: Chethan Kumar
Vocals: Anthony Daasan
Song: Hinde Hinde Hogu
Lyrics: Chethan Kumar
Vocals: Sanjith Hegde
Song: Enee Karmakalaa
Lyrics: Chethan Kumar
Vocals: Sunil Gujagonda
Song: Saakamma
Lyrics: Sathish Ninasam
Vocals: Arjun Janya
Comments
comments