October 18, 2023
Tripura Sundari Stotram Lyrics in English
Tripura Sundari Stotram Lyrics in English: Tripura Sundari Stotram, often referred to as Tripura Sundari Ashtakam, is a revered hymn composed by the illustrious Sri Adi Shankaracharya. Its purpose is to extol the divine virtues of Goddess Tripura Sundari, a powerful deity counted among the Dasa Maha Vidyas. She is renowned for her benevolence and her ability to fulfill the fervent wishes of her devotees.
Tripura Sundari is a manifestation of the divine feminine energy and is considered the ultimate form of Adi Parashakti. In sacred scriptures, Goddess Tripura Sundari is described as a protective and nurturing motherly figure. Devotees who approach her with unwavering devotion are promised the divine bliss bestowed by this great Goddess.
The Tripura Sundari Stotram lyrics convey profound meanings, elucidating the appearance, attributes, and divine essence of the Goddess. They also expound upon the Goddess's interests and her compassionate, maternal disposition towards her devotees.
Sri Adi Shankaracharya was an Indian philosopher and theologian who consolidated the doctrine of Advaita Vedanta. Shankaracharya traveled across the India to propagate his philosophy through discourses and debates with other thinkers.
Over 300 texts are attributed to Sri Adi Shankaracharya, including Bhasyas [Commentaries], Prakararana Grantha [Philosophical Expositions] and Stotras [Poetry].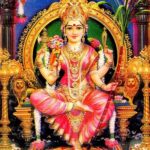 Tripura Sundari Stotram Lyrics in English
Composed by: Sri Adi Shankaracharya
Genre: Devotional Stotram
Language: Sanskrit
Goddess: Tripura Sundari
Singers: Various
Check out 'Tripura Sundari Stotram Lyrics in English' here..
Kadamba Vana Charineem Muni Kadamba Kaadambineem
Nitamba Jitha Bhudaraam Suranitambini Seevitaam
Navamburuha Lochana Abhinavaambudha Shyamalam
Trilochana Kutumbineem Tripura Sundari Maasraye
Kadamba Vana Vaasineem Kanaka Vallakii Dharineem
Mahaarhamani Haarineem Mukha Sammulla Sadwaaruneem
Dayaavibhava Kaarineem Visada-Rochanaa Chaarineem
Trilochana Kutumbineem Tripura Sundari Maasraye
Kadamba Vana Shaalaya Kucha Bharolla Sanmaalaya
Kuchopamitha Shailaya Gurukrupala Sadwelaya
Madaaruna Kapolaya Madhurageeta Vaachaalaya
Kayaapi Ghana Neelaya Kavachitha Vayam Leelaya
Kadamba Vana Madyagaam Kanaka Mandalopasthitham
Shadam Bhuruha Vaasineem Satatasiddha Saudamineem
Vidambita Japa-Ruchim Vikacha-Chandra Chudaamanim
Trilochana Kutumbineem Tripura Sundari Maasraye
Kuchanchitha Vipanchikaam Kutila Kuntalaa Lamkrutaam
Kusaesaya Nivaasineem Kutila Chitta Vidweshineem
Madaaruna Vilochanaam Manasijaari Sammohineem
Matanga Muni Kanyakaam Madhura Bhashinee Maasraye
Smareth Pradhama Pushpineem Rudhira-Bindhu Neelambaraam
Gruheetha Madhu Paatrikaam Mada Vighuurna Netraamchalam
Ghana Sthana Bharoonnataam Galitha Chulikaam Shyamalaam
Trilochana Kutumbineem Tripura Sundari Maasraye
Sakumkuma Vilepanaam Alika Chumbhi Kasturikaam
Samanda Hasithe Kshanaam Sashara Chapa Paasaamkusam
Ashesha Jana Mohinee Aruna Maalya Bhushaambaraam
Japa Kusuma Bhasuraam Japavidhou Smaram Ambikaam
Purandhara Purandrikaam Chikura-Bhandha Sairandrikaam
Pitaamaha Pativrataam Patu Pateera Charcharataam
Mukunda Ramanii Mani Lasa Dalamkriyaa Kaarineem
Bhajami Bhuvanaambikaam Sura Vadhutikaa Chetikaam
Comments
comments