May 6, 2022
Dharmendra Hema Malini Movies List
Dharmendra Hema Malini Movies List: The pair of Actor Dharmendra and Hema Malini is considered as one of the best onscreen and off screen pairs of Hindi Cinema. They have acted together in more than 30 Hindi movies and most of them are super hit films.
Actor Dharmendra is one of the iconic actors of Bollywood. He has worked in over 300 films in a career spanning five decades.  In 2012, he was awarded India's third-highest civilian honour Padma Bhushan by the Government of India.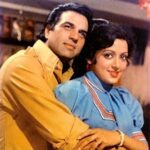 Actress Hema Malini is one of the most successful leading actresses of Indian Cinema. Over Five decades of her career She had acted in more than 150 movies. Her first film with Dharmendra was Tum Haseen Main Jawaan (1970). The two got married in 1980. The couple has two daughters, Esha Deol and Ahana Deol.
Here we have made an effort to list out the movies that features both Actor Dharmendra and Hema Malini. Lets have a look at the list.
List of Dharmendra Hema Malini Films
1. Sharafat (1970)
Directed by: Asit Sen
Story by: Mahesh Kaul
Music by: Laxmikant–Pyarelal
Lyrics by: Anand Bakshi
Starring: Ashok Kumar, Dharmendra, Hema Malini
Production: Famous Cine Studios
---
2. Tum Haseen Main Jawan (1970)
Release Date: 24 July 1970
Directed by: Bhappi Sonie
Written by: Sachin Bhowmick
Music by: Shankar Jaikishan
Lyrics by: Indeevar, Hasrat Jaipuri
Starring: Dharmendra, Hema Malini, Pran
---
3. Naya Zamana (1971)
Release date: 7 May 1971
Directed by: Pramod Chakravorty
Written by: Aghajani Kashmeri
Music by: S. D. Burman
Lyrics by: Anand Bakshi
Cast: Dharmendra, Hema Malini, Ashok Kumar
---
4. Seeta Aur Geeta (1972)
Release date: 24 November 1972
Directed by: Ramesh Sippy
Written by: Salim–Javed
Music by: R. D. Burman
Lyrics by: Anand Bakshi
Cast: Hema Malini, Dharmendra, Sanjeev Kumar
---
5. Raja Jani (1972)
Release date: November 3, 1972
Directed by: Mohan Sehgal
Written by: S. Ali Raza
Music by: Laxmikant–Pyarelal
Production Company: Seven Art Pictures
Cast: Dharmendra, Hema Malini, Premnath
---
6. Jugnu (1973)
Release date: 30 August 1973
Directed by: Pramod Chakravorthy
Written by: Sachin Bhowmick, Gulshan Nanda
Music by: Sachin Dev Burman
Production company: Pramod Films
Cast: Dharmendra, Hema Malini, Pran
---
7. Dost (1974)
Release date: 12 April 1974
Directed by: Dulal Guha
Written by: Shafiq Ansari, Sachin Bhowmick
Music by: Laxmikant–Pyarelal
Lyrics by: Anand Bakshi
Cast: Dharmendra, Hema Malini, Shatrughan Sinha
---
8. Patthar Aur Payal (1974)
Release date: 13 August 1974
Directed by: Harmesh Malhotra
Production Company: KPS Films
Music by: Kalyanji-Anandji
Cast: Dharmendra, Hema Malini, Vinod Khanna
---
9. Pratiggya (1975)
Directed by: Dulal Guha
Written by: Safiq Ansari, Nabendu Ghosh
Music by: Laxmikant–Pyarelal
Lyrics by: Anand Bakshi
Cast: Dharmendra, Hema Malini, Ajit
---
10. Kahtey Hain Mujhko Raja (1975)
Release date: 28 November 1975
Directed by: Biswajeet
Music by: R. D. Burman
Cast: Biswajeet, Rekha
---
11. Sholay (1975)
Relased On: 15 August 1975
Director: Ramesh Sippy
Written by: Salim–Javed
Music: R. D. Burman
Lyrics: Anand Bakshi
Cast: Sanjeev Kumar, Amitabh Bachchan
Banner: United Producers
---
12. Charas (1976)
Relased On: 24 May 1976
Director: Ramanand Sagar
Music: Laxmikant–Pyarelal
Lyrics: Anand Bakshi
Cast: Dharmendra, Hema Malini, Ajit
Banner: Jyoti Studios, Natraj Studios
---
13. Maa (1976)
Director: M. A. Thirumugam
Story by: Chinnappa Devar
Music: Laxmikant–Pyarelal
Lyrics: Anand Bakshi
Cast: Dharmendra, Hema Malini
---
14. Dream Girl (1977)
Relased On: 14 January 1977
Director: Pramod Chakravorty
Music: Laxmikant–Pyarelal
Lyrics: Anand Bakshi
Cast: Hema Malini, Ashok Kumar, Dharmendra
---
15. Kinara (1977)
Released On: 21 March 1977
Director: Gulzar
Music: R. D. Burman
Cast: Jeetendra, Hema Malini, Dharmendra
Banner: Meghana Movies
---
16. Chacha Bhatija (1977)
Released On: 11 January 1977
Director: Manmohan Desai
Written by: Salim–Javed, Prayag Raj
Music: Laxmikant–Pyarelal
Cast: Dharmendra, Hema Malini, Randhir Kapoor
---
17. Dillagi (1978)
Directed by: Basu Chatterjee
Story by: Bimal Kar
Music by: Rajesh Roshan
Lyrics by: Yogesh
Cast: Dharmendra, Hema Malini
---
18. Azaad (1978)
Directed by: Pramod Chakravorty
Produced by: Pramod Chakravorty
Music by: Rahul Dev Burman
Cast: Dharmendra, Hema Malini, Prem Chopra
Release date: 1 September 1978
---
19. Dil Kaa Heera (1979)
Directed by: Dulal Guha
Music: Laxmikant–Pyarelal
Lyrics: Anand Bakshi
Cast: Dharmendra, Hema Malini, Prem Chopra
Release Date: March 30, 1979
---
22. The Burning Train (1980)
23. Adventures of Ali-Baba and the Forty Thieves (1980)
24. Krodhi (1981)
25. Aas Paas (1981)
26. Samraat (1982)
27. Baghavat (1982)
28. Rajput (1982)
29. Meharbaani (1982)
30. Razia Sultan (1983)
31. Raaj Tilak (1984)
32. Jaan Hatheli Pe (1987)
33. Tell Me O Kkhuda (2011)
Phandebaaz (1978) – Hema Malini as Herself (guest appearance in song)
Comments
comments