November 29, 2021
List Of Best Christmas Movies For Holiday Season
List Of Best Christmas Movies For Holiday Season: The Christmas season is an annual festival period from late November to early January that includes important festivals such as Advent, Christmas Day, Boxing Day, New Year's Day, Twelfth Night, Thanksgiving, Kwanzaa and others.
The Christmas season is also known by several other name such as Christmas season, Christmas time, Holiday season, The holidays, Festive season, Winter holidays [Northern Hemisphere), Summer holidays [Southern Hemisphere], Yuletide, New Year's holidays etc..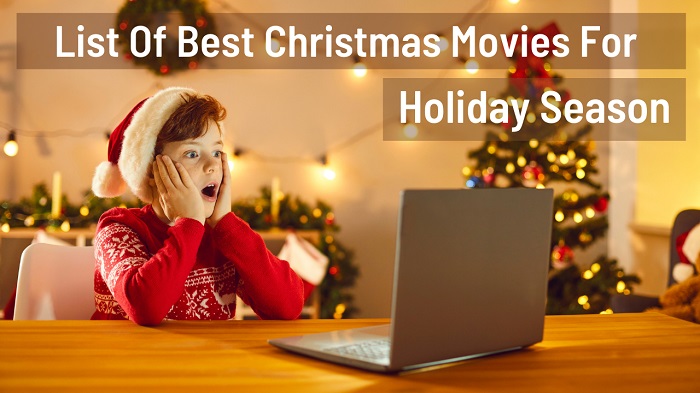 During this period of Holiday Season, people indulge in various activities and holiday-specific traditions such as family gathering, meeting friends, parties, watching movies, music, Gift giving, religious services etc..
If you are a movie buff and wondering what to watch for this Christmas holidays? well here is our recommendation of few Christmas themed movies for you to watch and feel the Christmas holiday season and have some fun. This list includes some of the best Christmas movies, some classic Christmas movies, few Christmas movies for kids, and others. some of these movies are available on amazon prime and Netflix.
List Of Best Christmas Movies For Holiday Season
It's a Wonderful Life [1946]
Directed by: Frank Capra
Screenplay: Frances Goodrich, Albert Hackett, Frank Capra
Based on: The Greatest Gift by Philip Van Doren Stern
Starring: James Stewart, Donna Reed, Lionel Barrymore
Music by: Dimitri Tiomkin
Release date: December 20, 1946
---
Miracle on 34th Street [1947]
Directed by: George Seaton
Story by: Valentine Davies
Produced by: William Perlberg
Music by: Cyril Mockridge
Release date: June 11, 1947
---
Holiday Affair [1949]
Directed by: Don Hartman
Screenplay by: Isobel Lennart
Based on: Christmas Gift by John D. Weaver
Cast: Robert Mitchum, Janet Leigh, Wendell Corey
Music by: Roy Webb
---
The Great Rupert [1950]
Directed by: Irving Pichel
Written by: Ted Allen, László Vadnay
Produced by: George Pal
Cast: Jimmy Durante, Terry Moore, Tom Drake
Music by: Leith Stevens
Release date: March 1, 1950
---
White Christmas [1954]
Directed by: Michael Curtiz
Produced by: Robert Emmett Dolan
Starring: Bing Crosby, Danny Kaye
Music & Lyrics: Irving Berlin, Gus Levene, Joseph J. Lilley
Music Score: Van Cleave
Production company: Paramount Pictures
---
A Charlie Brown Christmas [1965]
Type: Animated Television Special
Directed by: Bill Melendez
Based on: Peanuts by Charles M. Schulz
Composer: Vince Guaraldi
First Network: CBS
---
A Christmas Story [1983]
Director: Bob Clark
Based on: In God We Trust: All Others Pay Cash by Jean Shepherd
Starring: Melinda Dillon, Darren McGavin, Peter Billingsley
Music: Carl Zittrer, Paul Zaza
Production: Metro-Goldwyn-Mayer
Release date: November 18, 1983
---
Planes, Trains, and Automobiles [1987]
Written & Directed by: John Hughes
Starring: Steve Martin, John Candy
Music by: Ira Newborn
Production: Hughes Entertainment
Release date: November 25, 1987
---
Scrooged [1988]
Directed by: Richard Donner
Screenplay: Mitch Glazer, Michael O'Donoghue
Based on: A Christmas Carol by Charles Dickens
Starring: Bill Murray, Karen Allen, John Forsythe
Music by: Danny Elfman
Release date: November 23, 1988
---
National Lampoon's Christmas Vacation [1989]
Directed by: Jeremiah S. Chechik
Written by: John Hughes
Based on: Characters by John Hughes
Cast: Chevy Chase, Beverly D'Angelo, Randy Quaid
Music: Angelo Badalamenti
Release date: December 1, 1989
---
Home Alone [1990]
Directed by: Chris Columbus
Written by: John Hughes
Starring: Macaulay Culkin, Joe Pesci, Daniel Stern
Music by: John Williams
Production company: Hughes Entertainment
---
Home Alone 2: Lost in New York [1992]
Directed by: Chris Columbus
Written by: John Hughes
Starring: Macaulay Culkin, Joe Pesci, Daniel Stern
Music by: John Williams
Release date: November 20, 1992
---
The Muppet Christmas Carol [1992]
Director: Brian Henson
Screenplay: Jerry Juhl
Based on: A Christmas Carol, The Muppets
Cast: Michael Caine, Dave Goelz, Steve Whitmire
Music: Miles Goodman
Release date: December 11, 1992
---
Elf [2003]
Directed by: Jon Favreau
Written by: David Berenbaum
Cast: Will Ferrell, James Caan
Music: John Debney
Release date: November 7, 2003
---
Love Actually [2003]
Directed by: Richard Curtis
Cast: Hugh Grant, Liam Neeson, Colin Firth
Music by: Craig Armstrong
Release date: 14 November 2003
---
Eloise at Christmastime [2003]
Type: made-for-television live-action film
Director: Kevin Lima[1]
Writer: Kay Thompson
Cast: Julie Andrews, Sofia Vassilieva
Music: Bruce Broughton
Released on: November 22, 2003
---
The Polar Express [2004]
Type: Computer-Animated
Directed by: Robert Zemeckis
Screenplay by: Robert Zemeckis, William Broyles Jr.
Based on: The Polar Express by Chris Van Allsburg
Starring: Tom Hanks, Daryl Sabara, Nona Gaye
Music by: Alan Silvestri
---
Four Christmases [2008]
Directed by: Seth Gordon
Screenplay by: Matt R. Allen, Caleb Wilson, Jon Lucas, Scott Moore
Story by: Matt R. Allen, Caleb Wilson
Starring: Vince Vaughn, Reese Witherspoon, Robert Duvall
Music by: Alex Wurman
Release date: November 26, 2008
---
The Man Who Invented Christmas [2017]
Directed by: Bharat Nalluri
Written by: Susan Coyne
Based on: The Man Who Invented Christmas by Les Standiford
Starring: Dan Stevens, Christopher Plummer, Jonathan Pryce
Music: Mychael Danna
Comments
comments