May 23, 2018
Srigandha Kannada Songs Lyrics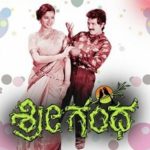 Srigandha Kannada Songs Lyrics: Srigandha [Shrigandha] is a super hit 1995 Kannada movie, directed by P. H. Vishwanath written with Neernalli Raju. The film was produced by Sampath Kumar under the banner Sri Varaha Creations. Srigandha features Ramesh Aravind, Sudharani, Srinath, Sushma, B. V. Radha, Kashi and others.
Akash Audio is the music label of this movie. All songs of this movie were written and composed by Nadabrahma Hamsalekha. Songs of this album were rendered by reputed playback singers P. B. Srinivas, S. Janaki, S. P. Balasubrahmanyam, Manjula Gururaj, Mano, B. R. Chaya, Latha Hamsalekha and Vijayalakshmi.
P. H. Vishwanath is one of the well known director in Kannada cini industry. He made some remarkable movies. He started his film career as an assistant director to Puttanna Kanagal in the 1979 film Dharmasere. He made his directorial debut with the path breaking 1990 Kannada movie Panchama Veda starring Ramesh Aravind and Sudharani in the lead. some of his most memorable work includes Panchama Veda (1990), Munjaneya Manju (1993), Srigandha (1995), Aragini (1995), Rangoli (1996), Andaman (1998) and others.
This album contains beautiful songs. all songs are good. Beautiful music and Lyrics by Hamsalekha.
Check out the lyrics here..
Ondu Anuraagada Kavya Lyrics
Movie: Srigandha [1995]
Music Label: Akash Audio
Music: Hamsalekha
Singers: S. P. Balasubrahmanyam, Manjula Gururaj
Lyrics: Hamsalekha
Kayisuva Hudugiyara Lyrics
Movie: Srigandha [1995]
Music Label: Akash Audio
Music: Hamsalekha
Singers: Mano, S. Janaki
Lyrics: Hamsalekha
Kogile Pada Jaanapada Lyrics
Movie: Srigandha [1995]
Music Label: Akash Audio
Music: Hamsalekha
Singers: Mano, S. Janaki
Lyrics: Hamsalekha
O Andaramma Andaru Lyrics
Movie: Srigandha [1995]
Music Label: Akash Audio
Music: Hamsalekha
Singers: P. B. Srinivas, B. R. Chaya, S. Janaki
Lyrics: Hamsalekha
Sister Sister Lyrics
Movie: Srigandha [1995]
Music Label: Akash Audio
Music: Hamsalekha
Singers: Latha Hamsalekha, Vijayalakshmi
Lyrics: Hamsalekha
Comments
comments