May 23, 2018
O Andaramma Andaru Lyrics | Srigandha
O Andaramma Andaru Lyrics | Srigandha: O Andaramma Andaru is a hit song from the 1995 Kannada movie Srigandha [Shrigandha], directed by P. H. Vishwanath written with Neernalli Raju. The film was produced by Sampath Kumar under the banner Sri Varaha Creations.
Srigandha features Ramesh Aravind, Sudharani, Srinath, Sushma, B. V. Radha, Kashi and others. Akash Audio is the music label of this movie. This song was written and composed by Nadabrahma Hamsalekha. O Andaramma Andaru song was rendered by famous playback singers P. B. Srinivas, B. R. Chaya and S. Janaki.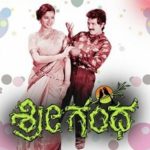 O Andaramma Andaru Lyrics
Movie: Srigandha [1995]
Music Label: Akash Audio
Music: Hamsalekha
Singers: P. B. Srinivas, B. R. Chaya, S. Janaki
Lyrics: Hamsalekha
Check out the lyrics here..
O.. O.. Oo..
O Andaramma Andaru
Preethi Kaledu Kondoru
Kandu Kandu Edavidare
Thilidiu Thilidiu Dudukidare
Aa Bhagayakke Kanneke
O Andaramma Andaru
Preethi Kaledu Kondoru
Bayasi Bayasi Balalidare
Kori Kori Koragidare
Aa Bhagayakke Badukeke
O Andaramma Andaru
Preethi Kaledu Kondoru
Ee Kopa Tumba Kettadu
Sathayavnnu Sahiaadu Snehavannu Bayadau
Preethipara Vahisidu
Ee Thaapa Tumba Kettadu
Nambikeya Suduvudu Anjikeya Neduvudu
Kambaniay Koduvudu
Kopa Thapada Kadalolage
Beku Beadada Kavalolage
Bigumaanada Muniseke
O Andaramma Andaru
Preethi Kaledu Kondoru
Kandu Kandu Edavidare
Thilidiu Thilidiu Dudukidare
Aa Bhagayake Kanneke
O Andaramma Andaru
Preethi Kaledu Kondoru
Bayasi Bayasi Balalidare
Kori Kori Koragidare
Aa Bhagayake Badukeke
O Andaramma Andaru
Preethi Kaledu Kondoru
Ee Preethi Emba Ghandavu
Henninalli Iddaru Gandinalli Iddaru
Mucchi Idalaararu
Ee Preethi Emba Maayeya
Appikonda Gandige Oppikonda Hennige
Shodaneyu Thappadu
Belake Sooryana Nungiralu
Manase Bhayakeya Dhaisiralu
Abhimaanda Musukeke
O Andaramma Andaru
Preethi Kaledu Kondoru
Kandu Kandu Edavidare
Thilidiu Thilidiu Dudukidare
Aa Bhagayake Kanneke
O Andaramma Andaru
Preethi Kaledu Kondoru
Bayasi Bayasi Balalidare
Kori Kori Koragidare
Aa Bhagayake Badukeke
O Andaramma Andaru
Preethi Kaledu Kondoru
Kayisuva Hudugiyara Yaaru Preethisabaaradu
Preethisuva Hudugaranu Yaaru Noyisabaaradu
Kaayisidaru Noyisidaru Naanu Ninna Preethisuve
Naanu Ninna Preethisuve
Kaayisidaru Noyisidaru Naanu Ninna Preethisuve
Naanu Ninna Preethisuve
Srigandha Kannada Songs Lyrics
Ondu Anuraagada Kavya
Kayisuva Hudugiyara
Kogile Pada Jaanapada
O Andaramma Andaru
Sister Sister
Comments
comments