February 17, 2018
Ninnantha Appa Illa Lyrics
Ninnantha Appa Illa Lyrics: Ninnantha Appa Illa is a song from the 1988 Kannada film Devatha Manushya, written and directed by Singeetham Srinivasa Rao. The film was produced by Smt Parvathamma Rajkumar under the banner Poornima Enterprises. The film features Dr. Rajkumar, Geetha, Sudharani, K. S. Ashwath, Balakrishna, Kanchana, Hema Choudhary, Shivaram, Sundar Krishna Urs, Rajanand, Padma Kumata, Honnavalli Krishna, Akhila, Sundaramma, Sithara, Sheela, Ashwath Narayan and others.
This film marks Dr. Rajkumar's 200th movie. Lahari Music was the music label of this movie. This song was composed by Upendra Kumar with lyrics penned by Chi. Udaya Shankar. Ninnantha Appa Illa song was rendered by Dr. Rajkumar and B. R. Chaya.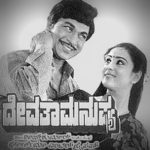 Ninnantha Appa Illa Lyrics
Movie: Devatha Manushya [1988]
Music Label: Lahari Music
Music: Upendra Kumar
Lyrics: Chi. Udaya Shankar
Singers: Dr. Rajkumar, B. R. Chaya
Check out the lyrics here..
Ninnantha Appa Illa Aha
Ondondu Maathu Bella Oho
Ninnantha Appa Illa Aa Ha Ha Ha
Ondondu Maathu Bella
Neene Nanna Jeeva
Neene Nanna Praana
Yava Daiva Thanda Varavo
Innu Naanu Ariyenu
Ninnantha Magalu Illa Aha
Balalli Neene Yella
Ninnantha Magalu Illa Howdaa
Balalli Neene Yella
Ninna Kanda Mele
Belaka Kande Baale
Yava Daiva Thanda Varavo
Innu Naanu Ariyenu
Ninnantha Appa Illa Ninnantha Magalu Illa
Nee Heege Nadeyalu
Nadu Heege Kuniyalu
Hadinentu Vayasina
Hudugana Haagide
Nee Heege Naguthire
Jotheyaagi Baruthire
Ananada Tharuthire
Hudugane Endigu
Rum Pam Ra Pam Pa Rumpa Pumpa Rumpa Pumpa |2|
Maathina Modige Ninnaane Naanu Bechchide
Ninnantha Magalu Illa Ninnantha Appa Illa
Santhoshavendare
Ullaasavendare
Sangeethavendare
Ninna Jothe Nadedare
Muddaada Maathali
Hithavada Raagadi
Dinavella Haadalu
Hege Naa Arithenu
Rum Pam Ra Pam Pa Rumpa Pumpa Rumpa Pumpa |2|
Nanna Ee Aragini Maathade Noodi Kalithenu
Ninnantha Appa Illa
Ondondu Maathu Bella
Ninnantha Magalu Illa
Balalli Neene Yella
Neene Nanna Jeeva
Neene Nanna Praana
Yava Daiva Thanda Varavo
Innu Naanu Ariyenu
Ninnantha Appa Illa Ninnantha Magalu Illa |6|
Devatha Manushya [1988] Songs
Hrudayadali Idenidu Nadiyondu
Ninnantha Appa Illa
Haalallaadaru Haaku Neeralladaru Haaku
Ee Songasaada Sanje
Ide Jeevana
Comments
comments