February 17, 2018
Haalallaadaru Haaku Neeralladaru Haaku Lyrics
Haalallaadaru Haaku Neeralladaru Haaku Lyrics: Haalallaadaru Haaku Neeralladaru Haaku is a song from the 1988 Kannada film Devatha Manushya, written and directed by Singeetham Srinivasa Rao. The film was produced by Parvathamma Rajkumar under the banner Poornima Enterprises.
The film features Dr. Rajkumar, Geetha, Sudharani, K. S. Ashwath, Balakrishna, Kanchana, Hema Choudhary, Shivaram, Sundar Krishna Urs, Rajanand, Padma Kumata, Honnavalli Krishna, Akhila, Sundaramma, Sithara, Sheela, Ashwath Narayan, and others.
This film marks Dr. Rajkumar's 200th movie. Lahari Music was the music label of this movie. This song was composed by Upendra Kumar with lyrics penned by Chi. Udaya Shankar. Haalallaadaru Haaku Neeralladaru Haaku song was rendered by Dr. Rajkumar and B. R. Chaya.
Director Singeetham Srinivasa Rao made his Kannada debut in 1982 through the Film Haalu Jenu starring Dr. Rajkumar and Madhavi in the lead. The film became a success at the box office and established Singeetham Srinivasa Rao as a bankable director.
He went onto make more Kannada movie with all the top stars in Kannada including the debut movies of Shivarajkumar in Anand [1986] and Raghavendra Rajkumar in Chiranjeevi Sudhakara [1988]. He also directed Puneeth Rajkumar in Eradu Nakshatragalu as child artist. Thus becoming the only director, who had directed Rajkumar and his three sons.
Director Singeetham Srinivasa Rao directed Dr. Rajkumar  in seven Kannada films in the span of six years. They are Haalu Jenu [1982], Chalisuva Modagalu [1982], Eradu Nakshatragalu [1983], Shravana Banthu [1984], Bhagyada Lakshmi Baramma [1985], Jwaalamukhi [1985], and Devatha Manushya [1988].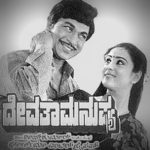 Haalallaadaru Haaku Neeralladaru Lyrics
Movie: Devatha Manushya [1988]
Cast: Dr. Rajkumar, Geetha, Sudharani
Music: Upendra Kumar
Lyrics: Chi. Udaya Shankar
Singers: Dr. Rajkumar, B. R. Chaya
Devatha Manushya [1988] Songs
Song: Hrudayadali Idenidhu
Lyrics: Chi. Udaya Shankar
Vocals: Rajkumar, Manjula Gururaj
Song: Ninantha Appa Illa
Lyrics: Chi. Udaya Shankar
Vocals: Rajkumar, B. R. Chaya
Song: Haalalladaru [Bit]
Lyrics: Chi. Udaya Shankar
Vocals: B. R. Chaya
Song: Ee Sogasaada Sanje
Lyrics: Chi. Udaya Shankar
Vocals: Rajkumar, Vani Jairam
Song: Ide Jeevana
Lyrics: Chi. Udaya Shankar
Vocals: S. P. Balasubrahmanyam
Comments
comments