January 14, 2018
Aakasmika Song Lyrics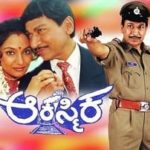 Aakasmika Song Lyrics: Huttidare Kannada Naadal is a song from the 1993 Kannada movie Aakasmika, directed by T. S. Nagabharana and produced by S A Govindaraj under the banner Sri Nirupama Combines. Aakasmika was based on Kannada writer Ta Ra Su [T. R. Subba Rao]'s trilogy Akasmika – Aparadhi – Parinama.
Aakasmika features Rajkumar, Madhavi, Geetha, Vajramuni, Thoogudeepa Srinivas, K. S. Ashwath, Pandari Bai, Avinash, M. S. Umesh, Sundar Raj, Mandeep Roy and others. Akash Audio was the music label of this movie. All Songs were composed and lyrics written by Hamsalekha. Songs were rendered by Rajkumar, Manjula Gururaj.
Check out the lyrics here..
Huttidare Kannada Naadal Lyrics
Movie: Aakasmika [1993]
Music Label: Akash Audio
Music: Hamsalekha
Lyrics: Hamsalekha
Singers: Rajkumar
Baaluvantha Hoove Baaduvaase Lyrics
Movie: Aakasmika [1993]
Music Label: Akash Audio
Music: Hamsalekha
Lyrics: Hamsalekha
Singers: Rajkumar
Ee Kannigu Hennigu Yenu Lyrics
Movie: Aakasmika [1993]
Music Label: Akash Audio
Music: Hamsalekha
Lyrics: Hamsalekha
Singers: Rajkumar, Manjula Gururaj
Aagumbeya Prema Sanjeyaa Lyrics
Movie: Aakasmika [1993]
Music Label: Akash Audio
Music: Hamsalekha
Lyrics: Hamsalekha
Singers: Rajkumar, Manjula Gururaj
Anuragada Bhoga Lyrics
Movie: Aakasmika [1993]
Music Label: Akash Audio
Music: Hamsalekha
Lyrics: Hamsalekha
Singers: Rajkumar
Comments
comments