January 13, 2018
Huttidare Kannada Naadal Lyrics
Huttidare Kannada Naadal Lyrics: Huttidare Kannada Naadal is a song from the 1993 Kannada movie Aakasmika, directed by T. S. Nagabharana and produced by S A Govindaraj under the banner Sri Nirupama Combines. Aakasmika was based on Kannada writer Ta Ra Su [T. R. Subba Rao]'s trilogy Akasmika – Aparadhi – Parinama.
Aakasmika features Rajkumar, Madhavi, Geetha, Vajramuni, Thoogudeepa Srinivas, K. S. Ashwath, Pandari Bai, Avinash, M. S. Umesh, Sundar Raj, Mandeep Roy and others. Akash Audio was the music label of this movie. This song was composed and written by Hamsalekha. Huttidare Kannada Naadal was rendered by Rajkumar.
One of the most loved songs by Kannada movie lovers.  Huttidare Kannada Naadal song became a signature song for Kannada Rajyotsava. This song is about being a Kannadiga and describes the greatness of the language and the land.  This song gives goosebumps every time we listen to it.  Annavru Rajkumar 's rendering gives the right emotions to the song.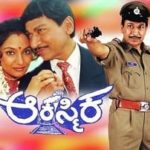 Huttidare Kannada Naadal Lyrics
Movie: Aakasmika [1993]
Music Label: Akash Audio
Music: Hamsalekha
Lyrics: Hamsalekha
Singers: Rajkumar
Check out the lyrics here..
Yeheee Baajooo Naana Takatakataa
Naana Takatakataa Naana Takatakataa Naana Takatakataa
Hey Heyyy
Huttidare Kannada Naadal Huttabeku
Mettidare Kannada Manna Mettabeku
Badukidu Jatakaa Bandi
Idu Vidhi Odisuva Bandi
Badukidu Jataka Bandi
Vidhi Aledaadisuva Bandi
Huttidare Kannada Naadal Huttabeku
Mettidare Kannada Manna Mettabeku
Kaashili Snaana Maadu
Kaashmeera Suththi Nodu
Joogaada Gundi Odeya
Naanendu Koogi Haadu
Ajantha Ellora Na Baalali Omme Noodu
Badami Aiholeya Chandana Thooka Maadu
Kaliyoke Koti Bhaashe
Aadoke Onde Baashe
Kannada Kannada..
Kasthuri Kannada
Huttidare Kannada Naadal Huttabeku
Mettidare Kannada Manna Mettabeku
Badukidu Jatakaa Bandi
Idu Vidhiyodisuva Bandi
Badukidu Jataka Bandi
Vidhi Guri Thorisuva Bandi
Dhyanakke Bhoomi Idu
Premakke Swarga Idu
Snehakke Shaale Idu
Gyanakke Peetha Idu
Kaavyakke Kalpavidu
Shilpakke Thalpa Idu
Natyakke Naadi Idu
Naadaantha Rangavidu
Kuvempu Bendre Inda
Karantha Maasthi Inda
Dhanyavee Kannada
Gokaakina Kannada
Huttidare Kannada Naadal Huttabeku
Mettidare Kannada Manna Mettabeku
Badukidu Jatakaa Bandi
Idu Vidhiyodisuva Bandi
Badukidu Jataka Bandi
Vidhi Dada Serisuva Bandi
Baalina Bennu Haththi
Nooraaru Ooru Suththi
Yeneno Kanda Meloo
Nammoore Namage Melu
Kailasam Kanda Namage
Kailaasa Yaake Beku
Daasara Kanda Namage
Vaikunta Yaake Beku
Mundina Nanna Janma
Bareditta Nante Brahma
Illiye Illiye..
Yendigu Naan Illiye
Huttidare Kannada Naadal Huttabeku
Mettidare Kannada Manna Mettabeku
Badukidu Jatakaa Bandi
Idu Vidhiyodisuva Bandi
Badukidu Jataka Bandi
Vidhi Dada Serisuva Bandi
Aakasmika Song Lyrics
Huttidare Kannada Naadal
Baaluvantha Hoove Baaduvaase
Ee Kannigu Hennigu Yenu
Aagumbeya Prema Sanjeyaa
Anuragada Bhoga
Comments
comments