July 30, 2018
Arere Avala Naguva Lyrics | Sarkari Hi. Pra. Shaale, Kasaragodu
Arere Avala Naguva Lyrics | Sarkari Hi. Pra. Shaale, Kasaragodu: Arere Avala Naguva is a Kannada song from the movie Sarkari Hi. Pra. Shale, Kasaragodu, Koduge: Ramanna Rai directed by Rishab Shetty and the movie is expected to hit the screens this year 2018. The film was produced by Rishab Shetty himself along with B V Ravi Rai, Akshata Shetty under the banner Rishab Shetty Films.
Sarkari Hi. Pra. Shale, Kasaragodu, Koduge: Ramanna Rai features Anant Nag, Ranjan, Sampath, Pramod Shetty, Saptha, Mahendra, Sohan Shetty, Prakash Thuminad and others. background score of the film was handled by Ajaneesh Lokanath. Rishab Audio is the music label of this movie.
The This song was composed by Vasuki Vaibhav with lyrics penned by Trilok Trivikrama. Arere Avala Naguva Song was rendered by Vasuki Vaibhav. Choir Singers are Rohith Bhat, Narayan Sharma, Shwetha Devanahalli and Esha Suchi.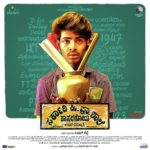 Arere Avala Naguva Lyrics
Movie: Sarkari Hi. Pra. Shaale, Kasaragodu
Music Label: Rishab Audio
Music: Vasuki Vaibhav
Lyrics: Trilok Trivikrama
Singers: Vasuki Vaibhav
Check out the lyrics here..
Arere Avala Naguva Aaa..
Nodi Marethe Jagava Aaa..
Hagaluganasu Mugisi
Sanje Vele Siguva
Mussangejege Haadaagalu Thangaaliya Thayaari
Saddillade Aa Sooryanu Baanaachege Paraari
Aveleduru Bandaaga Ede Baditha Joraagi
Koogo Kogile Manada Maamarake Maralide
Maiku Tharuvudanu Marethide Aaa..
Haadu Hagalene Baanali Noorudaariya Thappide
Ee Hareyadu Bali Bandare Borewelligu Baayaarike
Ee Vayasidu Kanasellava Nanasaagiso Kaigaarike
Gida Maravaago Vara Dorethaaga
Betta Bali Kardeu Guttu Helide
Hotteyolaginda Chitte Haaride Ooo…
Bisilero Time Alli..
Beesiralu Thangaali
Sero Modavu Moodu Banda Kade Odie
Gaali Maathanne Kelade
Aaa.. Aaa..
Odo Kaalada Kaalige Kaalu Gejje Kattide
Dina Shaalege Late Aadaru
Thusu Naachutha Thale Baachide
Kodo Pettige Ekaadaru Nasu Naachutha Kai Chaachide
Ele Hrudayakke Male Suridaaga
Meese Anchalli Aase Chiguride
Bunchu Banchaagi Kanasu Bandide Ooo…
Kiru Nageya Therannu Kannalle Elevaaga
Raashi Kaamane Edeya Baagilige Bandide
Enu Sulivannu Needade
Sarkari Hi. Pra. Shaale, Kasaragodu [2018] Songs
Dadda Song
He Sharade
Arere Avala Naguva
Nooraaru Bannagalu
Karavali Song
Balloon Song
Shabda Madi Daari Keli [Bur Burr]
Aleyo Alege [Patho Song]
Tooruttu
Comments
comments