April 10, 2018
Ba Kuniva Thai Tha Thai Lyrics
Ba Kuniva Thai Tha Thai Lyrics: Ba Kuniva Thai Tha Thai is a song from the 1990 Kannada movie Aasegobba Meesegobba, directed by M. S. Rajashekar. The film was produced by Smt. Parvathamma Rajkumar under the banner Poornima Enterprises.
Aasegobba Meesegobba features Shiva Rajkumar, Lokesh, Sudha Rani, Raghavendra Rajkumar, K. S Ashwath, Shivaram, Mysore Lokesh, Shivanand, Vaishali Karasaravalli, Honnavalli Krishna, Mandeep Roy, Priyadarshini, S Malathi, Arpitha, Sheela and others with rebel star Ambareesh in a special appearance. Actress Shrthi made her debut in this movie with name Priyadarshini.
This Kannada comedy entertainer is a remake of the Hrishikesh Mukherjee saab's 1979 Hindi cult classic Gol Maal starring Amol Palekar. Sangeetha music is the audio label of this movie. This song was composed by Upendra Kumar with lyrics penned by Chi. Udayashankar. Ba Kuniva Thai Tha Thai song was sung by S. P. Balasubrahmanyam and Manjula Gururaj.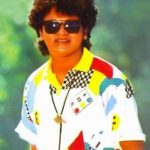 Ba Kuniva Thai Tha Thai Lyrics
Movie: Aasegobba Meesegobba [1990]
Audio Label: Sangeetha
Music: Upendra Kumar
Singers: S. P. Balasubrahmanyam, Manjula Gururaj
Lyrics: Chi. Udayashankar
Check out the lyrics here..
Ba Kuniva Thai Thai Thai Thai Sokisutha Mai Kai |2|
Jaga Marethu Berethu Naliva Naavu Baa Eegale |2|
Ba Kuniva Thai Thai Thai Thai Sokisutha Mai Kai |2|
Jaga Marethu Berethu Naliva Naavu Baa Eegale |2|
Hannanu Kanda Aha Aragiligala Haage Ooo Hooo
Kari Mugilanu Kanda Giri Navilina Haage
Hoovanu Kanda Mari Dumbiya Haage
Kendaavare Raviya Moga Nodida Haage
Hosa Sambhramadinda Balu Santhasadinda
Jaga Marethu Berethu Naliva Naavu Baa Eegale |2|
Ba Kuniva Thai Thai Thai Thai Sokisutha Mai Kai |2|
Gejjeya Chinthe Namagethake Beku Aahaa
Ninna Lajjeya Bittu Nalle Hejjeya Haaku Lalallalla
Raagada Chinthe Ningethake Beku
Anuraagave Namage Nanna Nallane Saaku
Thanu Balliya Haage Balukaadali Eega
Jaga Marethu Berethu Naliva Naavu Baa Eegale |2|
Ba Kuniva Thai Thai Thai Thai Sokisutha Mai Kai |2|
Jaga Marethu Berethu Naliva Naavu Baa Eegale |3|
Aasegobba Meesegobba Songs Lyrics
Ella Burude Illi
Thanana Thandana Kuniside Yavvana
Kenakuthide Ninna Kannota
Ba Kuniva Thai Tha Thai
Bombato Bombatu
Comments
comments