November 20, 2017
Bara Moda Karagi Lyrics
Bara Moda Karagi Lyrics: Bara Moda Karagi is a song from an upcoming Kannada movie Kanaka, directed by R. Chandru and produced by R.C.Movies. Kanaka features Duniya Vijay, Manvitha, Haripriya and others. Aananda Audio is the music label of this movie. This song was composed by Naveen Sajju with lyrics penned by Arasu. Bara Moda Karagi was rendered by Naveen Sajju.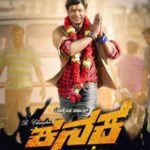 Bara Moda Karagi Lyrics
Movie: Kanaka [2017]
Music Label: Aananda Audio
Music: Naveen Sajju
Lyrics: Arasu
Singer: Naveen Sajju
Check out the lyrics here..
Bara Moda Karagi Bikkalisi Aluthalide Kandu Devaraata
Ithihaasa Kaanada Banda Kaliside Hosadu Ondu Paata
Bigidaaythu Ee Koralu Urulaaythe Ee Neralu
Elliruve Javaraaya Enayyya Nina Maaya
Banda Bayasi Bandantha Neene Aade Madila Benki
Harane Kollalu Pararu Kaayvare Yaaru Innu Baaki
Thththu Kotta Kai Kuththige Bigidide Olava Keda Bayasi
Soothakavembudu Harasi Kaliside Paapi Patta Hodisi
Cheluve Konda Baduku Aluthaithe Dikka Marethu
Ee Koosige Neralaagu Mathyaru Ninna Horethu
Baala Bandanava Kaluchiko Endu Heluthide Usiru
Panchabhoothavu Oppavu Ninna Kalachade Ee Hesaru
Kalachade Ee Hesaru
Comments
comments