July 1, 2018
Nam Hudugiyu Lyrics | Double Engine
Nam Hudugiyu Lyrics | Double Engine: Nam Hudugiyu is a song from the 2018 Kannada movie Double Engine, directed by Chandra Mohan. The film was jointly produced by Arun Kumar N, Srikanth B M under the banner S.R.S. Group. Double Engine [2018] features Chikanna, Suman Ranganath, Ashok, Prabhu, Priyanka Malnad, Sadhu Kokila, Dathanna, Achyuth Kumar, Suchendra Prasad, Shobraj, Biradar and others. Aananda Audio is the music label of this movie. This song was composed by Veer Samarth with lyrics penned by K. Naveen Kumar. Nam Hudugiyu Oppakondavle song was rendered by playback singer Sachin Pilgaonkar.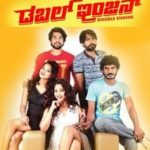 Nam Hudugiyu Lyrics
Movie: Double Engine [2018]
Music Label: Aananda Audio
Music: Veer Samarth
Lyrics: K. Naveen Kumar
Singer: Sachin Pilgaonkar
Check out the lyrics here..
Nam Hudugiyu Oppakondavle
Oorgella Fullu Sweet Hanchale
Thumbaane Kaaysi Sikkbittavle
Nadu Beediyalle Kunidaadale
Mund Hogu Anthiddavl Indu
Mund Ninthu Maathadi Hodlu
Kannalle Kidi Kaaruthidlu
Kann Hodedu Nag Nagtha Hodlu
Abbabba Khushiya Hege Thadeyali
Ondsaari Jeeva Hogi Band Budli
Nam Hudugiyu Oppakondavle
Oorgella Fullu Sweet Hanchale
Nee Modalige Kandaagale
Chaligaalavu Manasige Mellage
Koduvaaga Hoovu Kai Thaagalu
Nara Naadigu Hariyithe Besige
Iruvashtu Ruthugalu Onde
Samane Thirugi Badalaadaru
Yendendu Badalaagadanthe
Neenu Nanna Jotheyaagiru
Nam Hudugiyu Oppakondavle
Oorgella Fullu Sweet Hanchale
Hejjegala Enisuththale
Aar Thinglu Varusha Summane Jaarithu
Ninna Baigula Keluththale
Ninnoppiso Dhairyavu Bandithu
Ulidiruva Janmagala Aayassella Barali Ee Janumake
Bali Iruva Ondondu Kshanavu Kooda Jeevake Kaanike
Nam Hudugiyu Oppakondavle
Oorgella Fullu Sweet Hanchale
Double Engine Kannada Songs Lyrics
Amase Divsa Chandran
Nam Hudugiyu Oppakondavle
Allnodu Illnodu Coloursu
Bari Moore Dinada Baalu
Comments
comments