July 1, 2018
Amase Divsa Lyrics | Double Engine
Amase Divsa Lyrics | Double Engine: Amase Divsa is a song from the 2018 Kannada movie Double Engine, directed by Chandra Mohan. The film was jointly produced by Arun Kumar N, Srikanth B M under the banner S.R.S. Group. Double Engine [2018] features Chikanna, Suman Ranganath, Ashok, Prabhu, Priyanka Malnad, Sadhu Kokila, Dathanna, Achyuth Kumar, Suchendra Prasad, Shobraj, Biradar and others. Aananda Audio is the music label of this movie. This song was composed by Veer Samarth with lyrics penned by Manju Mandavya. Amase Divsa song was rendered by playback singer Vijay Prakash.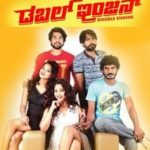 Amase Divsa Lyrics
Movie: Double Engine [2018]
Music Label: Aananda Audio
Music: Veer Samarth
Lyrics: Manju Mandavya
Singer: Vijay Prakash
Check out the lyrics here..
Amase Divsa Chandran Thorsak Hontavre
Akashak Hann Thorsi Male Barsak Ninthavre
Amase Divsa Chandran Thorsak Hontavre
Akashak Hanna Thorsi Male Barsak Ninthavre
Yaarappa Baredavnu Ivr Jaathka
Badkavna Nodrappa Aa Muduka
Yugakomme Hottodu Inthavrella
Kithod Kithod Kithod Kithod Kithod Nan Maklu
Han Ooru Keri Yella Seri Ugithavre Suthlu
Amase Divsa Chandran Thorsak Hontavre
Akashak Hanna Thorsi Male Barsak Ninthavre
Amase Divsa Chandran Thorsak Hontavre
Akashak Hanna Thorsi Male Barsak Ninthavre
Hey Doddavre Agangilla Ooralli Henn Maklu
Fecebookaalli Kalisthare Avagle Requestu
Addadda Uddudda Hengaru Seelkoli
Seriousse Agalla Onchooru Life Alli
Oorigivre Yashu Punith Darshannu
Kottkondavre Ivrig Ivre Build Uppu
Jaaga Bidi Bidi Jaaga Bidi Bidi
Loose Nan Maklu Baththavre
Aunty Guinty Irli Age-U Fourty Irli
Baayi Baayi Bidthaare
Kithod Kithod Kithod Kithod Kithod Nan Maklu
Han Ooru Keri Yella Seri Ugithavre Suthlu
Amase Divsa Chandran Thorsak Hontavre
Akashak Hanna Thorsi Male Barsak Ninthavre
Amase Divsa Chandran Thorsak Hontavre
Akashak Hanna Thorsi Male Barsak Ninthavre
Kottavre Oornalli Ivrgondu Doctrate-U
Biddaithe Haththoralli Bejaanu Dharmadetu
Illi Thorsi Alli Haarso Adnaadi Tharadoru
Panchaaythi Kattege Kere Haavu Bidovru
Kedu Gaalake Naayi Motte Itroonu
Omelt Haakondu Thinno Tharle Maklivru
Dari Bidi Bidi Daari Bidi Bidi Kal Nan Maklu Odthavre
Hodi Badi Byadi Hodi Badi Byadi Oorig Kolli Idthavre
Kithod Kithod Kithod Kithod Kithod Nan Maklu
Han Ooru Keri Yella Seri Ugithavre Suthlu
Amase Divsa Chandran Thorsak Hontavre
Akashak Hanna Thorsi Male Barsak Ninthavre
Amase Divsa Chandran Thorsak Hontavre
Akashak Hanna Thorsi Male Barsak Ninthavre
Double Engine Kannada Songs Lyrics
Amase Divsa Chandran
Nam Hudugiyu Oppakondavle
Allnodu Illnodu Coloursu
Bari Moore Dinada Baalu
Comments
comments