July 1, 2018
Bari Moore Dinada Lyrics | Double Engine
Bari Moore Dinada Lyrics | Double Engine: Bari Moore Dinada is a song from the 2018 Kannada movie Double Engine, directed by Chandra Mohan. The film was jointly produced by Arun Kumar N, Srikanth B M under the banner S.R.S. Group. Double Engine [2018] features Chikanna, Suman Ranganath, Ashok, Prabhu, Priyanka Malnad, Sadhu Kokila, Dathanna, Achyuth Kumar, Suchendra Prasad, Shobraj, Biradar and others. Aananda Audio is the music label of this movie. This song was composed by Veer Samarth with lyrics penned by K. Naveen Kumar.
Bari Mooore Dinada Baalu song was rendered by playback singer Chethan Kumar.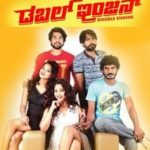 Bari Moore Dinada Lyrics
Movie: Double Engine [2018]
Music Label: Aananda Audio
Music: Veer Samarth
Lyrics: K. Naveen Kumar
Singer: Chethan Kumar
Check out the lyrics here..
Ooru Sikkuvudenu Daari Thappiruvaaga
Adda Daari Hididiruvaaga
Kallu Mullu Sigabaaradendarenu
Bari Mooore Dinada Baalu
Naana Thara Naatakaveko
Bari Moore Hoththina Koolu
Munnooru Veshagaleko
Balu Eththara Beleyalu Maravu
Kelagiliyale Beko Beru
Balalli Chiguralu Hasiru
Nee Surisale Beko Bevaru
Geddora Mathra Neenu Nodutha
Niyaththa Daari Sera Bedavo
Sothora Maathu Kelo
Sothora Maatha Kelo Sari Daariyalle Hogo
Sothora Maatha Kelo Sari Daariyalle Hogo
Bari Mooore Dinada Baalu
Naana Thara Naatakaveko
Bari Moore Hoththina Koolu
Munnooru Veshagaleko
Bega Bega Beleyo Aaseli
Theera Aala Seruva Mandi Illi
Varushadali Yella Kaala
Thangaaliye Beeadu Yendu
Mudiyaagi Maagida Hannu
Mannanne Noduvudendu
Yelliddaroonu Hegiddaroonu
Maribeda Deha Mannige
Mannindalene Anna
Mannindalene Chinna
Mannagi Hogo Munna
Managaano Ee Sathyana
Bari Mooore Dinada Baalu
Naana Thara Naatakaveko
Bari Moore Hoththina Koolu
Munnooru Veshagaleko
Bere Yeno Padeyo Aaseli
Idduddella Kaleva Mandi Illi
Helidare Olleyadannu Yendendu Kelada Janaru
Olleyade Maadu Yendu Aa Devara Dina Beduvaru
Yellello Aledu Yeneno Aagi Paradaata Patta Meleye
Thiliyodu Jeevana Sathya
Thiliyodu Jeevana Sathya Adanalavadisiko Nee Nithya
Thiliyodu Jeevana Sathya Adanalavadisiko Nee Nithya
Bari Mooore Dinada Baalu
Naana Thara Naatakaveko
Bari Moore Hoththina Koolu
Munnooru Veshagaleko
Double Engine Kannada Songs Lyrics
Amase Divsa Chandran
Nam Hudugiyu Oppakondavle
Allnodu Illnodu Coloursu
Bari Moore Dinada Baalu
Comments
comments