August 17, 2023
Bendekayi Thondekayi Thotadallide Lyrics
Bendekayi Thondekayi Thotadallide Lyrics: Bendekayi Thondekayi Thotadallide is a Kannada Rhyme for children's written by R. Radhakrishna.
This is a playful and whimsical children's rhyme in Kannada. It doesn't seem to have a specific profound meaning but rather consists of playful and imaginative verses.
Bendekayi Thondekayi Thotadallide Song Lyrics were penned by R. Radhakrishna and the song was composed by Music Director Sri Maruthi. This song was sung by singer B.R. Chaaya for the album Thattu Chappale Putta Magu under the music label 'Lahari Music'.
The song talks about various elements and objects like vegetables, animals, the sky, and more, often in a lighthearted and repetitive manner. Each verse describes something in a certain location or situation, and the repetitive structure adds to the whimsical nature of the song. Overall, it's a fun and creative composition that is likely enjoyed by children for its catchy rhythm and playful imagery.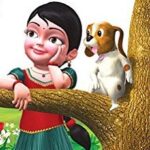 Bendekayi Thondekayi Thotadallide Lyrics
Album: Thattu Chappale Putta Magu
Singer: B.R. Chaaya
Music Director: Sri Maruthi
Lyricist: R. Radhakrishna
Music Label : Lahari Music
Check out 'Bendekayi Thondekayi Thotadallide Lyrics' here..
Bende Kaayi Thonde Kaayi Thotadallide
Unde Unde Bella Bella Dabbadallide
Bende Kaayi Thonde Kaayi Thotadallide
Unde Unde Bella Bella Dabbadallide
Kuy Kuy Naayi Mari Ellide
Jagalialli Mooleyalli Malagide
Kuy Kuy Naayi Mari Ellide
Jagalialli Mooleyalli Malagide
Aduge Koneyalli Paatre Urulide
Aduge Koneyalli Paatre Urulide
Maribekku Haalu Kudidu Odide
Bende Kayi Thonde Kayi Totadallide
Unde Unde Bella Bella Dabbadallide
Gaganadalli Mugila Mele Yenide
Belli Battalondu Alli Telide
Gaganadalli Mugila Mele Yenide
Belli Battalondu Alli Telide
Haari Baruva Hakki Eega Ellide
Haari Baruva Hakki Eega Ellide
Haari Hogi Marada Mele Kulitide
Bende Kayi Thonde Kayi Totadallide
Unde Unde Bella Bella Dabbadallide
Attadalli Eno Shabda Agide
Hegganavu Ache Eeche Odide
Attadalli Eno Shabda Agide
Hegganavu Ache Eeche Odide
Hattiyalli Danaveko Koogide
Hattiyalli Danaveko Koogide
Hagga Bicchi Karuvu Ello Odide
Bende Kaayi Thonde Kaayi Thotadallide
Unde Unde Bella Bella Dabbadallide
Nanage Yeko Nidre Eega Barutide
Howdu Eega Tumba Raatriyaagide
Nanage Yeko Nidre Eega Barutide
Howdu Eega Tumba Raatriyaagide
Suttalella Kattaleyu Tumbide
Suttalella Kattaleyu Tumbide
Lokavela Nidreyalli Mulugide
Bendekayi Thondekayi Thotadallide
Unde Unde Bella Bella Dabbadallide
Bende Kayi Thonde Kayi Thotadallide
Unde Unde Bella Bella Dabbadallide
Lalla Lala Lalla Lala Lalalalala
Lalla Lala Lalla Lala Lalalalala
Comments
comments