April 12, 2018
Bittaku Guru Song Lyrics | Abhi
Bittaku Guru Song Lyrics | Abhi: Bittaku Guru is a song from the 2003 Kannada movie Abhi, written and directed by Dinesh Babu. The film was produced by Parvathamma Rajkumar under the banner Poornima Enterprises. Abhi features Puneeth Rajkumar, Ramya, Sahukar Janaki, Sumithra, Umashree, Raju Ananthaswamy, Honnavalli Krishna, Biradar, Hulivan Gangadharaiah, B Jayamma, Enagi Nataraj, Shailaja Joshi, Kavya Prakash, Sunil Puranik, Sridhar, Bharath Bhagavathar and others. The film marks the debut of actress Ramya. The film was remade in Telugu as Abhimanyu starring Kalyan Ram.
Ashwini Audio is the music label of this movie. This song was composed by Gurukiran with lyrics written by V. Nagendra Prasad. Bittaku Guru song was rendered by Shankar Mahadevan and Chetan Sosca.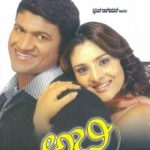 Bittaku Guru Lyrics
Movie: Abhi [2003]
Music Label: Ashwini Audio
Music: Gurukiran
Singer: Shankar Mahadevan, Chetan Sosca
Lyrics: V. Nagendra Prasad
Check out the lyrics here..
Bittaku Guru Feel-U
Munde Ide Goal-U
Win Aagokke Beku Smile-U Smile-U
Ellaara Preethilu Problem-U Maamulu
Naguthiddare Illa Solu Solu
Aaa.. Aa..
Novallu Nagale Beku
Jenantha Nudi Idu
Shokakke Owshadi Naguvu..
Nee Nakku Nagisu Saaku
Jagavella Naguvudu
Ee Maathu Arithare Sukhavu
Life Emba Highway-Li
Snehane Thangaali
Ee Joureny Jolly Jolyy Hey Hey Hey..
Bittak Guru Feel-U
Munde Ide Goal-U
Win Aagokke Beku Smile-U Smile-U
Prize Win Hodeda Haage
Preeethsoru Dorethare
Kaayuttha Kulitide Manavu
Sangaathi Saniha Saaku
Angaile Eedhare
Praanane Mudipide Dinavu..
Life Emba Highway-li
Snehane Thangaali
Ee Joureny Jolly Jolyy Jolly
Jujuju Maza Maadu Jujuju
Jujuju Maza Maadu Jujuju
Hey Bittaku Guru Feel-U
Munde Ide Goal-U
Win Aagokke Beku Smile-U Smile-U
Ellaara Preethilu Problem-U Maamulu
Naguthiddare Illa Solu Solu
Abhi Kannada Movie Songs
Mama Mama Maja Madu
Sum Sumne Olu Bido Sundari
Ee Nanna Kannane
Vidhi Baraha
Bittaku Guru
Comments
comments