May 29, 2018
Chalisuva Modagalu Songs Lyrics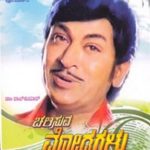 Chalisuva Modagalu Songs Lyrics: Chalisuva Modagalu is a 1982 super hit Kannada movie, directed by Singeetham Srinivasa Rao. The film was produced by Smt Parvathamma Rajkumar under the banner Vaishnavi Movies.
Chalisuva Modagalu features Dr. Rajkumar, Ambika, Saritha, Master Lohith, K. S. Ashwath, Thoogudeepa Srinivas, Thimmaiah, Shivaprakash, Vishwanath, Chayapathi, Bheema Rao, Sringar Nagaraj, Honnavalli Krishna, K. P. Manjaiah, Basavaraju, G. Kashinath, Yathiraja, Police Mahadevappa, Chikkanna, Surendranath, Pandaribai, Adavani Lakshmidevi, Papamma, Suma and others.
Sangeetha music is the audio label of this movie. The movie is famous for its evergreen songs which was composed by musical duo Rajan-Nagendra with lyrics written by Chi. Udayashankar. The songs for Chalisuva Modagalu were rendered by Dr. Rajkumar, S. Janaki and Puneeth Rajkumar.
Check out the lyrics here..
Chandira Thanda Hunnime Rathri Lyrics
Movie: Chalisuva Modagalu
Music Label: Sangeetha
Music: Rajan-Nagendra
Lyrics: Chi. Udayashankar
Singers: Dr. Rajkumar, S. Janaki
Jenina Holeyo Haalina Maleyo Lyrics
Movie: Chalisuva Modagalu
Music Label: Sangeetha
Music: Rajan-Nagendra
Lyrics: Chi. Udayashankar
Singer: Dr. Rajkumar
Neenello Naanalle Lyrics
Movie: Chalisuva Modagalu
Music Label: Sangeetha
Music: Rajan-Nagendra
Lyrics: Chi. Udayashankar
Singers: Dr. Rajkumar, S. Janaki
Kaandanthe Maayavadhanu Namma Shiva Lyrics
Movie: Chalisuva Modagalu
Music Label: Sangeetha
Music: Rajan-Nagendra
Lyrics: Chi. Udayashankar
Singer: Puneeth Rajkumar
My Lord Nanna Vaada Lyrics
Movie: Chalisuva Modagalu
Music Label: Sangeetha
Music: Rajan-Nagendra
Lyrics: Chi. Udayashankar
Singers: Dr. Rajkumar, S. Janaki
Comments
comments