May 29, 2018
Chandira Thanda Hunnime Rathri Lyrics
Chandira Thanda Hunnime Rathri Lyrics: Chandira Thanda Hunnime Rathri is a song from the 1982 super hit Kannada movie Chalisuva Modagalu, directed by Singeetham Srinivasa Rao. The film was produced by Smt Parvathamma Rajkumar under the banner Vaishnavi Movies.
Chalisuva Modagalu features Dr. Rajkumar, Ambika, Saritha, Master Lohith, K. S. Ashwath, Thoogudeepa Srinivas, Thimmaiah, Shivaprakash, Vishwanath, Chayapathi, Bheema Rao, Sringar Nagaraj, Honnavalli Krishna, K P Manjaiah, Basavaraju, G Kashinath, Yathiraja, Police Mahadevappa, Chikkanna, Surendranath, Pandaribai, Adavani Lakshmidevi, Papamma, Suma and others.
Sangeetha music is the audio label of this movie. This song was composed by Rajan-Nagendra with lyrics penned by Chi. Udayashankar. Chandira Thanda Hunnime Rathri was rendered by Dr. Rajkumar and S. Janaki.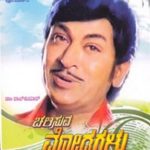 Chandira Thanda Hunnime Rathri Lyrics
Movie: Chalisuva Modagalu
Music Label: Sangeetha
Music: Rajan-Nagendra
Lyrics: Chi. Udayashankar
Singers: Dr. Rajkumar, S. Janaki
Check out the lyrics here..
Chandira Thanda Hunnime Rathri
Galiyu Thanda Tannnane Rathri
Haayagi Naa Malagiralu
Aa Dimbu Haasige Nana Nookithu
Ee Nanna Nallana Koogendithu
Aa Dimbu Haasige Nana Nookithu
Ee Nanna Nallana Koogendithu
Chandira Thanda Hunnime Rathri
Galiyu Thanda Tannnane Rathri
Haayagi Naa Malagiralu
Ee Nanna Manchavu Maathadithu
Ninnannu Achege Nookendithu
Ee Nanna Manchavu Maathadithu
Ninnannu Achege Nookendithu
Enu Thondare Alli Bandare Seve Maaduuvenu
Hoovanu Haasi Ninna Malagisi Laali Haaduvenu
Maiyya Muttade Kaiyya Eleyade Doora Nilluveya
Nanna Nemmadi Haalu Maadade Horage Hoguveya
Bhari Brahmachari Neenu Balle Ella
Henne Ninna Arogya Sariyagilla
Preethi Endare Goththe Illa
Nanage Preethiye Bekaagilla
Bedavendaru Naa Biduvude Illa
Ayyo Chandira Thanda Hunnime Rathri
Gaaliyu Thanda Tannnane Rathri
Haayagi Naa Malagiralu
Ee Nanna Manchavu Maathadithu
Ninnannu Achege Nookendithu
Aa Dimbu Haasige Nana Nookithu
Ee Nanna Nallana Koogendithu
Aththe Kandare Maava Bandare Maana Hoguvudu
Appanu Regi Gadarisidaaga Enu Heluvudu
Yeke Hedaruve Kadava Haakuve Enu Kelisadu
Saddu Maadade Deepa Aarisu Enu Kaanisadu
Ayyo Ninna
Ninna Hennu Andorige Buddi Illa
Yene Helu Ninna Bittu Balodilla
Kopa Bandare Summaniralla
Agale Neenu Chenna Nalla
Ayyo Enu Maadali Aa Devare Balla
Aha Chandira Thanda Hunnime Rathri
Galiyu Thanda Tannnane Rathri
Haayagi Naa Malagiralu
Aa Dimbu Haasige Nana Nookithu
Ee Nanna Nallana Koogendithu
Ee Nanna Manchavu Enendithu
Ninnannu Achege Nookendithu
Chalisuva Modagalu Songs Lyrics
Chandira Thanda Hunnime Rathri
Jenina Holeyo Haalina Maleyo
Neenello Naanalle
Kaandanthe Maayavadhanu Namma Shiva
My Lord Nanna Vaada
Comments
comments