June 19, 2018
Chandra Manchake Lyrics | Deergha Sumangali
Chandra Manchake Lyrics | Deergha Sumangali: Chandra Manchake is a song from the 1995 Kannada movie Deergha Sumangali, directed by D. Rajendra Babu and produced by D. R. Umashankari, R. Venkata Raju under the banner Adithya Movie Makers.
Deergha Sumangali features Sithara, Devan, Ramakrishna, Srinivasa Murthy, B. V. Radha, Lakshman, Richard Louis, Srishailan, M. S. Karanth, Brahmavar and others with Vishnuvardhan in Guest Appearance. Jhankar Music is the music label of this movie. This song was composed and written by Hamsalekha. Chandra Manchake song was rendered by playback singer S. P. Balasubrahmanyam and K. S. Chithra.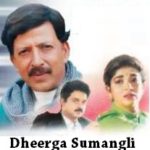 Chandra Manchake lyrics
Movie: Deergha Sumangali [1995]
Music Label: Jhankar Music
Music: Hamsalekha
Lyrics: Hamsalekha
Singers: S. P. Balasubrahmanyam, K. S. Chithra
Check out the lyrics here..
Chandra Manchake Hogona Barthiya
Prema Kunchake Hejjenu Tharthiyaaa
Chandra Manchake Hogona Barthiya
Prema Kunchake Hejjenu Tharthiyaaa
Belli Modada Rekkena Kat'thiya
Chukki Pushpava Jadege Id'thiya
Yella Janumadallu Jothege Irthiya
Nanna Deergha Sumangali Madthiya
Bayakeya Bannada Seerena Uduthiya
Sarasada Samayada Gadiyaara Katt'thiya
Chandranoo Hodaroo Sooryanu Mareyaadaroo
Nillisalaagada Madhu Yaanavidu
Aalasavaadaru Bahukaalava Kaadaroo
Madiyali Maaduva Sukha Dhyanavidu
Yella Janumadallu Jothege Irthiya
Nanna Deergha Sumangali Madthiya
Chandra Manchake Hogona Barthiya
Prema Kunchake Hejjenu Tharthiyaaa
Belli Modada Rekkena Kat'thiya
Chukki Pushpava Jadege Id'thiya
Hooo Ohoho Aahaha Haa Haha
Kanasina Aramane Naa Tharuva Udugore
Olavina Amrutha Naanereve Karedare
Nenedare Gaayana Premada Rasayana
Karagada Kalpana Saamraajyavidu
Premada Bhavane Devara Maha Kalpane
Adarali Aralida Rasakaavyavidu
Yella Janumadallu Jothege Irthiya
Nanna Deergha Sumangali Madthiya
Chandra Manchake Hogona Barthiya
Prema Kunchake Hejjenu Tharthiyaaa
Belli Modada Rekkena Kat'thiya
Chukki Pushpava Jadege Id'thiya
Comments
comments