October 24, 2017
College Kumar Song Lyrics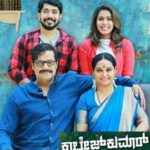 College Kumar Song Lyrics: College Kumar is an upcoming 2017 Kannada movie, directed by Alemaari Santhu. College Kumar features Vicky [Kendasampige fame], Samyuktha Hegde [Kirik Party fame], Ravishankar, Shruthi, Sadhu Kokila and others. Jhankar Music is the music label of this movie.
Songs were composed by Arjun Janya with lyrics penned by Jayanth Kaikini, V. Nagendra Prasad and Hari Santosh. Songs were rendered by Shweta Mohan, Alok, Vasuki Vaibhav, Vyasaraj, Nithin Rajaram Shastry, Sanchith Hegde.
Check out the lyrics here..
Naavu Last Bench Lyrics
Movie: College Kumar [2017]
Music Label: Jhankar Music
Music: Arjun Janya
Lyrics: Hari Santosh
Singers: Alok, Vasuki Vaibhav, Vyasaraj
Marali Marali Lyrics
Movie: College Kumar [2017]
Music Label: Jhankar Music
Music: Arjun Janya
Lyrics: Hari Santosh
Singer: Sanchith Hegde
Hasi Bisi Lyrics
Movie: College Kumar [2017]
Music Label: Jhankar Music
Music: Arjun Janya
Lyrics: Jayanth Kaikini
Singer: Shweta Mohan
Nanna Kuse Lyrics
Movie: College Kumar [2017]
Music Label: Jhankar Music
Music: Arjun Janya
Lyrics: V. Nagendra Prasad
Singer: Nithin Rajaram Shastry
Comments
comments