October 7, 2017
Naavu Last Bench Lyrics
Naavu Last Bench Lyrics: Naavu Last Bench is a song from an upcoming 2017 Kannada movie College Kumar, directed by Alemaari Santhu. College Kumar features Vicky [Kendasampige fame], Samyuktha Hegde [Kirik Party fame], Ravishankar, Shruthi, Sadhu Kokila and others. Jhankar Music is the music label of this movie. This song was composed by Arjun Janya with lyrics penned by Hari Santosh.  Naavu Last Bench was rendered by Alok, Vasuki Vaibhav and Vyasaraj.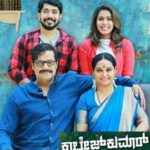 Naavu Last Bench Lyrics
Movie: College Kumar [2017]
Music Label: Jhankar Music
Music: Arjun Janya
Lyrics: Hari Santosh
Singers: Alok, Vasuki Vaibhav, Vyasaraj
Check out the lyrics here..
Naavu Last Benchu Boysu
Namma Class Fullu Noiseu
Nadeyo Nadeyo Belabelage College Horagade
Irali Irali Ninna Nadige Hudgiru Iro Kade
Exam Bunku Maadtheevi Freedom Namagide
Nuggo Nuggo Theatre Olage Morning Show Ide
Hey Lookige Lookku Kodtha Idre Nee Sumne Hoddaakole
Student Life Idu Golden Life
Student Life Idu Golden Life
Lalalala Nanana Lalalala Nanana
College-ge Haavali
Naavilli Entry Kotre
Kelangilla Namna
Last Bench Boys
Addagidda Sikkidare
Beeluthave Maanja
Helikeli Naavu
Last Bench Boys
Opposite-u Yaaru Illa
Bandru Illi Ulsodilla
Keli Thilko Naavu
Last Bench Boys
Appi Thappi Maathu Kotre
Lifelong Saath Kodtheevi
Nodi Kali Naavu
Last Bench Boys
Collge Yuga
Illi Gellone Raja Maga
Enjoy Maga
Illi Sumnidre Illa Maja
Season-u Reason-u Bekaagilla
Nee Sumne Hod-Daadolo
Student Life Idu Golden Life
Student Life Idu Golden Life
Lalalala Nanana Lalalala Nanana
Lalalala Nanana Lalalala Nanana
Nadeyo Nadeyo Belabelage College Horagade
Irali Irali Ninna Nadige Hudgiru Iro Kade
Student Life Idu Golden Life
Student Life Idu Golden Life
Lalalala Nanana Lalalala Nanana
Lalalala Nanana Lalalala Nanana
College Kumar Songs
Naavu Last Bench
Marali Marali
Hasi Bisi
Nanna Kuse
Save
Save
Save
Comments
comments