July 23, 2018
Deepadinda Deepava Lyrics | Nanjundi
Deepadinda Deepava Lyrics | Nanjundi : Deepadinda Deepava is a song from the 2003 Kannada movie Nanjundi, directed and written by S. R. Brothers and produced by Ramu under the banner of Ramu Enterprises.
Nanjundi was released in 2003 starring Shiva Rajkumar, Debina Bonnerjee, Umashri, Lokesh, Suresh Heblikar, Ramakrishna, Doddanna, Karibasavaiah, Sadhu Kokila, M.N Lakshmi Devi, Chitra Shenoy, Shobha Raghavendra, M. P. Shankar, M. S. Karanth, Biradar and others.
Akash Audio was the music label of this movie. This song was composed and written by Nadha Brahma Hamsalekha scoring for his 250th film. All tracks of this movie said to be purely associated with traditional musical instruments without any usage of the modern electronic instruments. Deepadinda Deepava song was rendered by Veteran Singer Madhu Balakrishnan, Nanditha.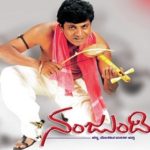 Deepadinda Deepava Lyrics | Nanjundi
Movie: Nanjundi [2003]
Music Label: Akash Audio
Music: Hamsalekha
Lyrics: Hamsalekha
Singers: Madhu Balakrishnan, Nanditha
Check Out the Lyrics Here
Deepadinda Deepava Deepava Deepava Deepava
Hachchabeku Maanava Maanava Maanava Maanava
Preethi Inda Preethi Hanchiro
Deepadinda Deepava
Hachchabeku Maanava
Preethi Inda Preethi Hanchalu
Manasininda Manasanu
Belaga Beku Maanava
Melu Keelu Bedha Nillalu
Bedhavilla Benkige
Dweshavilla Belakige
Nee Thiliyo Nee Thiliyo
Deepadinda Deepava
Hachchabeku Maanava
Preethi Inda Preethi Hanchalu
Aase Hinde Dukha Yendaru
Rathri Hinde Hagalu Yendaru
Dweshavendu Hore Yendaru
Habbavadake Hegalu Yendaru
Yeradu Mukhada Namma Janumada Veshaavali
Thegedu Haalbelaka Kudivude Deepaavali
Deepadinda Deepava
Hachchabeku Maanava
Preethi Inda Preethi Hanchalu
Bedhavilla Benkige
Dweshavilla Belakige
Nee Thiliyo Nee Thiliyo
Deepadinda Deepava
Hachchabeku Maanava
Preethi Inda Preethi Hanchalu
Mannininda Hanatheyaadare
Beejadinda Yenneyaayithu
Arali Inda Baththiyaadare
Suduva Benki Jyothiyaayithu
Nandisuvudu Thumba Sulabhave Heey Maanava
Aanandisuvudu Thumbha Katinavo Hey Daanava
Deepadinda Deepava
Hachchabeku Maanava
Preethi Inda Preethi Hanchalu
Bedhavilla Benkige
Dweshavilla Belakige
Nee Thiliyo Nee Thiliyo
Deepadinda Deepava
Hachchabeku Maanava
Preethi Inda Preethi Hanchalu
Nanjundi [2003] Songs:
Nanjundi Haadu Oore Haadali
Andada Maneya
Deepadinda Deepava
Chellidaro Malligeya
Kayutthalanno Namma
Koli Ko Koli
Baaro Maleraaya
Thaayi Yendalli Januma Ide
Comments
comments