March 12, 2018
Gandaka Lyrics | Rajaratha
Gandaka Lyrics | Rajaratha: Gandaka is a song from an upcoming 2018 Kannada movie Rajaratha, written and directed by Anup Bhandari. Rajaratha features Nirup Bhandari, Avantika Shetty, P. Ravishankar, Arya, Sruthi Hariharan, Puneeth Rajkumar and others. This is the second collaboration with the director and lead roles after a grand success of Rangi Taranga. Divo is the music label of this movie.
This song was composed and written by Anup Bhandari. Gandaka was rendered by Ravi Shankar, Anup Bhandari and Inchara Rao. Gandaka song is very interesting number with some pure kannada lyrics and music supported by musicians like Bruce on guitar, Seenu who handled Banjo/Mandolin and Sandeep Vasishta's flute and Dipesh Varma's Rhythms & Percussion.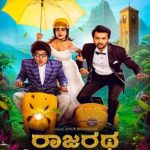 Gandaka Lyrics
Movie: Rajaratha [2018]
Music Label: Divo
Music: Anup Bhandari
Lyrics: Anup Bhandari
Singers: Ravi Shankar, Anup Bhandari, Inchara Rao
Check out the lyrics here..
Gandakavannu Gandhakadalli Kanda Kathe Beka
Kantaka Banda Mandookada Karandakave Beka
Gandakavannu Gandhakadalli Kanda Kathe Beka
Kantaka Banda Mandookada Karandakave Beka
Konku Donkada Binkada Kudure
Hinde Konkana Mundgade Chadure
Anku Donkide Thenkana Haaru
Tangu Bigidu Changane Edure
Neenu Kudida Sheesheya Mele
Iththu Vijaya .. mudure
Bhadreya Dadadali Nidreya Naduve
Eddavananthe Aagide
Gaadiyu Nintharu Daariye Munde Saagide
Khada Parapancha Dinavellavu Kaadhaata
Ee Aata Sukhakaagi Hudukaatavoo..o..
Garadiyolage Bari Koraduntu
Yeke Beku odegoradu
Ujju Goradinda Kere Thegeyo
Loka Koreda Prathi karudu
Kahiye Irada Baale Baradu
Sihiya Bedo Loka Kuruda
Munde Eradu Baalele Haradu
Sihiyu Kahiyu Bereyali
Jambave Thumbida Thumbida Kumbala Kannu Thereyali
Navvantiya Savvaarayya Atharagetta Anjaneya Helu
Madaverida.. Madanaariya.. Karedoyyuva.. Daariya..
Sulya Daati Sampaje Madikerili Thampaade
Suntikoppa Aledaadi Baylu Koppeli Kempaade
Hukkadadeduru Ekkada Thegedu Pakkada Oorige Chalisiruve
Thakkada.. Illade Dikkella Belagiruve
Ninna Naguve Thaareya Minugu
Neenu Sooso Hoovina Punugu
Guduguva Sidilondu Badiyuva Rabhasake
Muluguva Hadaganthaadenu
Comments
comments