October 28, 2017
Neenado Mathella Chanda Lyrics
Neenado Mathella Chanda Lyrics: Neenado Mathella Chanda is a song from the 1980 Kannada movie Vasantha Geetha, directed by Dorai – Bhagwan. Vasantha Geetha features Rajkumar, Gayathri, Puneeth Rajkumar, K. S. Ashwath, Srinivasa Murthy, Leelavathi, Thoogudeepa Srinivas, Prabhakara and others. Sangeetha was the music label of this movie. This song was composed by M. Ranga Rao with lyrics penned by Chi. Udaya Shankar. Neenado Mathella Chanda was rendered by Rajkumar.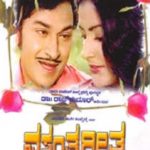 Neenado Mathella Chanda Lyrics
Movie: Vasantha Geetha [1980]
Music Label: Sangeetha
Music: M. Ranga Rao
Lyrics: Chi. Udaya Shankar
Singer: Rajkumar
Check out the lyrics here..
Neenaado Maathella Chanda Ninninda Ee Baale Anda
Hoy Hoy Hoy
Neenaado Maathella Chanda Ninninda Ee Baale Anda
Nanagaagi Nee Bande Ningaagi Naa Bande
Nanagaagi Nee Bande Ningaagi Naa Bande
Mana Aseya Kadalagide Thanu Hoovina Odalaagide
Neenaado Maathella Chanda Ninninda Ee Baale Anda
Kanda Neenandu Kaanadaadaga Baale Irulaayithu
Nanna Ee Jeeva Kaanade Nova Saaku Saakayithu
He Hehe Hehee Raa Rara Raa
Aaa Haha Haaha Eee Hehe Hehe
Neenu Nanninda Dooravadaga Kanda Naa Uliyenu
Hoova Kampanthe Gaali Thampanthe
Raagadimpanthe Sanjegempanthe
Nannalliye Ondagiru Ee Dehake Usiragiru
Neenaado Maathella Chanda Ninninda Ee Baale Anda
Intha Muddada Hennu Maguvannu Endu Naa Kaanenu
Ninna Ee Vesha Modalu Kandaaga Naane Beragaadenu
Ohohooo Hoo Aha Haa Haa
Daadi Bilupaagi Bennu Billagi Naanu Mudiyaadenu
Bere Maadoru Yaaru Innilla Vesha Namadendu Yaaru Helalla
Nimmammane Eduraadaru Nammibbara Guruthagadu
Neenaado Maathella Chanda Ninninda Ee Baale Anda
Nanagaagi Nee Bande Ningaagi Naa Bande
Nanagaagi Nee Bande Ningaagi Naa Bande
Mana Aseya Kadalagide Thanu Hoovina Odalaagide
Neenaado Maathella Chanda Ninninda Ee Baale Anda
Vasantha Geetha Songs
Kannalle Eno
Neenado Mathella Chanda
Aataveno Notaveno
Haayada Ee Sanje
Save
Comments
comments