March 3, 2018
Premada Kanike Kannada Song Lyrics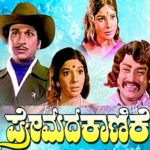 Premada Kanike Kannada Song Lyrics: Premada Kanike is a 1976 Kannada movie, directed by V. Somashekhar and the story was written by Salim-Javed based on the 1969 Hindi film Do Bhai. This film was remade in Tamil as Polladhavan in 1980 starring Rajinikanth.
Premada Kanike features Rajkumar, Aarathi, Jayamala, Vajramuni, Rajashankar, Balakrishna, Sampath, Thoogudeepa Srinivas, Ramadevi, B. Jaya, Rathnamala, Jayamma, Baby Poornima Rajkumar, Puneeth Rajkumar (credited as Master Lohith) and others.
Saregama was the music label of this movie. Premada Kanike has total 6 sound tracks and all songs are extremely well and considered as evergreen hits. Songs of this movie were composed by Upendra Kumar with the lyrics written by Chi. Udaya Shankar and Vijaya Narasimha. Premada Kanike songs were rendered by S. Janaki, Dr. Rajkumar, P. B. Sreenivas, H. P. Geetha and Vani Jairam.
Check Out The Lyrics Here…
Putta Putta Hejje Ittu Lyrics
Movie: Premada Kanike [1976]
Music Label: Saregama
Music: Upendra Kumar
Lyrics: Chi. Udaya Shankar
Singers: S. Janaki
Baanigondu Yelle Yellide Lyrics
Movie: Premada Kanike [1976]
Music Label: Saregama
Music: Upendra Kumar
Lyrics: Chi. Udaya Shankar
Singer: Dr. Rajkumar
Chinna Yendu Naguthiru Nanna Lyrics
Movie: Premada Kanike [1976]
Music Label: Saregama
Music: Upendra Kumar
Lyrics: Chi. Udaya Shankar
Singer: P. B. Sreenivas
Idu Yaaru Bareda Katheyo Lyrics
Movie: Premada Kanike [1976]
Music Label: Saregama
Music: Upendra Kumar
Lyrics: Chi. Udaya Shankar
Singer: Dr. Rajkumar
Naguveya Henne Naanu Jaari Lyrics
Movie: Premada Kanike [1976]
Music Label: Saregama
Music: Upendra Kumar
Lyrics: Vijaya Narasimha
Singers: Dr. Rajkumar, H. P. Geetha
Naa Bidalaare Yendu Ninna Lyrics
Movie: Premada Kanike [1976]
Music Label: Saregama
Music: Upendra Kumar
Lyrics: Vijaya Narasimha
Singers: Dr. Rajkumar, Vani Jairam
Comments
comments