September 20, 2018
Ninna Nanna Manavu Serithu Song Lyrics | Bhagyavantharu
Ninna Nanna Manavu Serithu Song Lyrics | Bhagyavantharu: Ninna Nanna Manavu Serithu is famous Kannada song from the 1977 movie Bhagyavantharu, directed by H.R. Bhargava in his directorial debut and produced by Dwarakish under the banner Dwarakish Chithra.
Bhagyavantharu features Annavru Dr. Rajkumar, B. Sarojadevi, Ashok, Balakrishna, Ramakrishna, Thoogudeepa Srinivas, Sampath, Ramakrishna, Hanumanthachar, M S Sathya, Joker Shyam, Rajanand, Umesh, Shani Mahadev, Ashwath Narayan, Honnavalli Krishna, Mynavathi, Lakshmidevi, Suma, Jaya, Padmashree, Shashikala, Shantha, Dr Shidhar,Ramesh, Bheemarao and others. The film was a remake of 1974 Tamil film Dheerga Sumangali.
Saregama is the music label of this movie. This songs was composed by Rajan-Nagendra with lyrics written by Chi. Udaya Shankar. Ninna Nanna Manavu Serithu Song was rendered by Gana Gandhrava Dr. Rajkumar.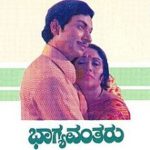 Ninna Nanna Manavu Serithu Lyrics
Movie: Bhagyavantharu [1977]
Music Label: Saregama
Music: Rajan-Nagendra
Lyrics: Chi. Udaya Shankar
Singer: Rajkumar
Check out the lyrics here..
Ninna Nanna Manavu Serithu
Nanna Ninna Hrudaya Haadithu
Ninna Nanna Manavu Serithu
Nanna Ninna Hrudaya Haadithu
Raagavu Onde Bhaavavu Onde
Jeeva Ondaayithu
Baalu Haguraayithu
Ninna Nanna Manavu Serithu
Nanna Ninna Hrudaya Haadithu
Ekaangiyaagiralu Kai Hidide Jotheyaade
Thaayanthe Bali Bande Aadarisi Preethiside
Baalali Sukha Needide
Nannee Badukige Shruthiyaade
Nannee Maneya Belakaade
Ninna Nanna Manavu Serithu
Nanna Ninna Hrudaya Haadithu
Endu Jotheyali Baruve Ninna Neralina Haage Iruve
Koragadiru Marugadiru Haayaagi Neeniru
Endu Jotheyali Baruve Ninna Usirali Usiraagiruve
Novugalu Nanagirali Ananda Ninadaagali
Naguvina Hoogala Mele
Nadeyuva Bhagya Ninagirali
Noduva Bhagya Nanagirali
Ninna Nanna Manavu Serithu
Nanna Ninna Hrudaya Haadithu
Raagavu Onde Bhaavavu Onde
Jeeva Ondaayithu
Baalu Haguraayithu
Ninna Nanna Manavu Serithu
Nanna Ninna Hrudaya Haadithu
Bhagyavantharu [1977] Movie Songs
Ninna Nanna Manavu Serithu
Ninna Snehake Naa Sothu Hodenu
Bhagyavantharu Naave Bhagyavantharu
Comments
comments