September 20, 2018
Ninna Snehake Naa Sothu Hodenu Song Lyrics | Bhagyavantharu
Ninna Snehake Naa Sothu Hodenu Song Lyrics | Bhagyavantharu: Ninna Snehake Naa Sothu Hodenu is famous Kannada song from the 1977 movie Bhagyavantharu, directed by H.R. Bhargava in his directorial debut and produced by Dwarakish under the banner Dwarakish Chithra.
Bhagyavantharu features Annavru Dr. Rajkumar, B. Sarojadevi, Ashok, Balakrishna, Ramakrishna, Thoogudeepa Srinivas, Sampath, Ramakrishna, Hanumanthachar, M S Sathya, Joker Shyam, Rajanand, Umesh, Shani Mahadev, Ashwath Narayan, Honnavalli Krishna, Mynavathi, Lakshmidevi, Suma, Jaya, Padmashree, Shashikala, Shantha, Dr Shidhar,Ramesh, Bheemarao and others.
The film was a remake of 1974 Tamil film Dheerga Sumangali. Saregama is the music label of this movie. This songs was composed by Rajan-Nagendra with lyrics written by Chi. Udaya Shankar. Ninna Snehake Naa Sothu Hodenu Song was rendered by Gana Gandhrava Dr. Rajkumar and legendary Singer P. Susheela.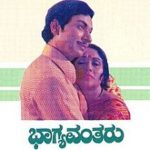 Ninna Snehake Naa Sothu Hodenu Lyrics
Movie: Bhagyavantharu [1977]
Music Label: Saregama
Music: Rajan-Nagendra
Lyrics: Chi. Udaya Shankar
Singers: Rajkumar, P. Susheela
Check out the lyrics here..
Ninna Snehake Naa Sothu Hodenu
Ella Devara Naa Bedikondenu
Devara Varavo Punyada Palavo Kaanenu
Ninna Naa Padedenu
Nimma Snehake Naa Sothu Hodenu
Ella Devara Naa Bedikondenu
Devara Varavo Punyada Palavo Kaanenu
Nimma Naa Padedenu
Oo Ninna Snehake Naa Sothu Hodenu
Ella Devara Naa Bedikondenu
Hahaha Lalala Hahaha
Hahaha Lalala Lalala
Ninna Naanu Kandaaga
Malligeyanthe Nakkaaga
Nanna Manadali Aase Moodithu
Andu Neenu Bandaaga
Mallige Hoovu Thandaaga
Nanna Hrudayada Veene Haadithu
Premada Devatheyaade
Nannalli Ondaagi Indu Seride
Premada Mooruthiyaade
Nannalli Ananda Thandu Thumbide
Nannalli Ananda Thandu Thumbide
Ninna Snehake Naa Sothu Hodenu
Ella Devara Naa Bedikondenu
Nannee Baalina Deepa..
Nimmade Ee Prathi Roopa
Ninnee Gandhada Roopa..
Belaguva Nanda Deepa
Maimaresi Namma Mana Thanisi
Harushada Honalanu Harisi
Indu Ee Muddu Kanda
Thanda Namagaanada
Nimma Snehake Naa Sothu Hodenu
Ella Devara Naa Bedikondenu
Amma Endu Andaaga
Ammana Mogava Kandaaga
Yeno Harushavu Nanna Manadali
Appa Endu Andaaga
Preethi Maathu Nudidaaga
Haadi Kuniyuva Aase Nannali
Enthaha Bhagyava Thande
Jenantha Maathinda Hrudaya Thumbide
Enthaha Bhagyava Thande
Hennagi Kannaagi Maneya Thumbide
Hennagi Kannaagi Manava Thumbide
Ninna Snehake Naa Sothu Hodenu
Ella Devara Naa Bedikondenu
Devara Varavo Punyada Palavo Kaanenu
Ninna Naa Padedenu
Aa Lalalala
Aa Lalalala
Bhagyavantharu [1977] Movie Songs
Ninna Nanna Manavu Serithu
Ninna Snehake Naa Sothu Hodenu
Bhagyavantharu Naave Bhagyavantharu
Comments
comments