July 6, 2018
Hosa Baalu Ninninda Lyrics | Auto Raja
Hosa Baalu Ninninda Lyrics | Auto Raja: Hosa Baalu Ninninda is a Kannada song from the movie Auto Raaja [Auto Raja], directed by Vijay. The film was produced by C. Jayaram under the banner Sapthaswara Movie Makers. The film was released in 1980 featuring Shankar Nag, Gayathri, Dwarakish, Balakrishna, Thoogudeepa Srinivas, Sundar Krishna Urs, Tiger Prabhakar, Leelavathi, Musuri Krishnamurthy, Padma, K. S. Ashwath, Papamma and others. This movie was remade in Tamil with same name starring Vijayakanth in 1982.
Saregama was the music label of this movie. All songs of this movie were composed Rajan-Nagendra with the lyrics penned by Chi. Udayashankar. Hosa Baalu Ninninda song was rendered by one of the greatest singer of all time S. Janaki.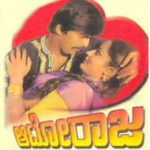 Hosa Baalu Ninninda Lyrics
Movie: Auto Raaja [1980]
Music Label: Saregama
Music: Rajan-Nagendra
Lyrics: Chi. Udayashankar
Singers: S. Janaki
Check out the lyrics here..
Hosa Baalu Ninninda
Hosa Baalu Ninninda
Nee Thande Aananda
Ninna Naa Nodalu
Ho Ninna Na Seralu
Thanuvu Hoovaythu Manavu Jenaythu
Thanuvu Hoovaythu Manavu Jenaythu
Hosa Baalu Ninninda
Nee Thande Aananda
Ninna Naa Nodalu
Ho Ninna Na Seralu
Ninna Naa Mechchi Nanna Nee Mechchi
Preethiyinda Manasu Bichchi Maathanadi
Neene Nanna Jodi Yendu Kai Needi Sangaathi Yaadenu
Ninna Snehakke Ninna Premakke Yendu Naanu
Sothu Hode Muddu Nalla
Ninna Maathalli Kanna Minchalli Neeragi Hodenu
Neeragi Hodhenu
Hosa Baalu Ninninda
Nee Thande Aananda
Ninna Naa Nodalu Ho Ninna Na Seralu
Nota Ondaagi Aase Ondaagi Ninna Nanna
Manasu Manasu Berathu Hogi
Bayake Hoovaagi Preethi Hannagi Ondaagi Hodevu
Maathu Bangara Gunavu Bangara
Nanna Raja Nanna Bala Bangara
Neenu Nannanthe Naanu Ninnanthe
Nee Naana Jeevavu
Nee Naana Jeevavu
Hosa Baalu Ninninda
Nee Thande Aananda
Ninna Naa Nodalu
Ho Ninna Na Seralu
Thanuvu Hoovaythu Manavu Jenaythu
Thanuvu Hoovaythu Manavu Jenaythu
Hosa Baalu Ninninda
Nee Thande Aananda
Ninna Naa Nodalu
Ho Ninna Na Seralu
Comments
comments