August 23, 2018
Aralo Hunnime Song Lyrics | Chandramukhi Pranasakhi
Aralo Hunnime Song Lyrics | Chandramukhi Pranasakhi: Aralo Hunnime is a song from the 1999 Kannada movie Chandramukhi Pranasakhi, directed by Seetharam Karanth. The film was produced by N K Prakash Babu under the banner Shreematha Pictures.
Chandramukhi Pranasakhi features Ramesh Aravind, Prema, Bhavana, Srinivasa Murthy, Vaishali Kasaravalli, Akhila, Shivaram, B. V. Radha, Renukamma Murugod, Eshwari Kumari, Narayan, Mysore Ramanand, Mandeep Roy, Cheluvamurthy, Sudheer, Suresh Kumar, Sudarshan Gatti, K. K Gatti and others. Lahari Music is the music label of this movie. This songs was composed and written by K. Kalyan. Aralo Hunnime Song was rendered by famous singer S. P. Balasubramanyam.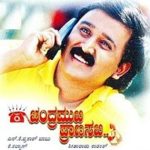 Aralo Hunnime Lyrics
Movie: Chandramukhi Pranasakhi [1999]
Music Label: Lahari Music
Music: K. Kalyan
Lyrics: K. Kalyan
Singer: S. P. Balasubramanyam
Check out the lyrics here..
Aralo Hunnime Haralo Hunnime
Nee Arulu Marulu Maado Hunnime
Aralo Hunnime Haralo Hunnime
Nee Kanasu Keeri Haado Hunnime
Yavvana Ninna Neralinallide
Aakarshane Tudi Beralinallide
Ninna Munde Sonne Hunnime
Aralo Hunnime Haralo Hunnime
Nee Arulu Marulu Maado Hunnime
Ooooo..
Ee Kannige Saridoogo Kannugalilla
Ee Holapige Saridoogo Belakugalilla
Nina Kaanthi Prakrutige Maikaanthi
E Naguva Kale Haako Kaigalu Illa
Vayyarake Thale Haako Naaligeilla
Nina Sogase Ee Bogasige Manashanthi
Ninna Bhangiya Aa A Aaa
Prapulla Lalleya Ooo Oho
Thaakode Saahitya
Thoogode Sangeetha
Aralo Hunnime Haralo Hunnime
Nee Arulu Marulu Maado Hunnime
Ooooo..
Ee Onapanu Maremaacho Reshime Illa
Ee Thampanu Tusu Maasuva Maasagalilla
Nina Sparsha Hoogalali Mruduvaasa
Ee Nadigeya Kadaliso Narthanavilla
Ee Spoorthiya Badaliso Shakthigalilla
Nina Iruvike Hengalige Upavaasa
Summanetake Sullu Holike
Neeniruva Sullallu
Naaniruve Nijavagalu
Aralo Hunnime Haralo Hunnime
Nee Arulu Marulu Maado Hunnime
Aralo Hunnime Haralo Hunnime
Nee Kanasu Keeri Haado Hunnime
Yavvana Ninna Neralinallide
Aakarshane Tudi Beralinallide
Ninna Munde Sonne Hunnime
Chandramukhi Pranasakhi Songs
Nenapugala Maathu Madhura
Manase O Manase
Modala Prema Patrave
Chiguru Bombeye
Aralo Hunnime
El El Mallige
Ondu Prema Pallakkiya Mele
Chandramukhi Hoy
Comments
comments