August 23, 2018
Manase O Manase Song Lyrics | Chandramukhi Pranasakhi
Manase O Manase Song Lyrics | Chandramukhi Pranasakhi: Manase O Manase is a song from the 1999 Kannada movie Chandramukhi Pranasakhi, directed by Seetharam Karanth. The film was produced by N K Prakash Babu under the banner Shreematha Pictures.
Chandramukhi Pranasakhi features Ramesh Aravind, Prema, Bhavana, Srinivasa Murthy, Vaishali Kasaravalli, Akhila, Shivaram, B. V. Radha, Renukamma Murugod, Eshwari Kumari, Narayan, Mysore Ramanand, Mandeep Roy, Cheluvamurthy, Sudheer, Suresh Kumar, Sudarshan Gatti, K. K Gatti and others.
Lahari Music is the music label of this movie. This songs was composed and written by K. Kalyan. Manase O Manase Song was rendered by K. S. Chithra and Badri Prasad.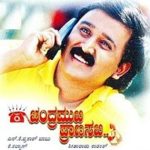 Manase O Manase Lyrics
Movie: Chandramukhi Pranasakhi [1999]
Music Label: Lahari Music
Music: K. Kalyan
Lyrics: K. Kalyan
Singers: K. S. Chithra, Badri Prasad
Check out the lyrics here..
Manase O Manase Yenthaa Manase
Manase Yele Manase
Manase O Manase Yenthaa Manase
Manase Ola Manase
Manase Ninnali Yaava Manaside
Yaava Manasige Nee Manasu Maadide
Manasillada Manasininda Manasu Maadi Madhura Manasige..
Manasukottu Manasanne Marethubitteya
Manasukottu Manasolage Kulitubitteya
Manase O Manase Yenthaa Manase
Manase Yele Manase
Ooooo Oooooo O Ho O Ho
Ooo Manase.. Ondu Manasa Yeradu Manasu Yella Manasa Niyamaa
Ooo Manase.. Yeredu Haalu Manasalonde Manasu Iddare Premaaa
Manasaago Prathi Manasigu Mana Sothiruvaa
Yele Manasu Yella Manasina Manaserolla
Yele Manasu Nija Manasinalada Manasa
Husi Manasu Anta Manasane Manasennolla
Manase Manase Hasi Hasi Manase
Manasu Ondu Manasiro.. Manasinaa.. Thananana..
Thirugo Manasigu Marugo Manaside
Barada Manasigu Karugo Manaside
Mai Manasale Manasiddare Manasu Manasa Hiditaviddare Ye Ye
Mommale Manasiddaru Mulugeladu Manasu
Manasillo Manasu Maado Manasa Manasu
Manase O Manase
Ooo Manase.. Manasu Manasalliddarene Alli Manashanthi
Ooo Manase.. Manasu Manasa Keli Manasu Kottare Manasaakshi
Manasaare Manasittu Haduva Manasu
Manasoore Yaagodu Manasigu Gottu
Manasiddare Maarga Anta Heluva Manasu
Mannisuva Manasali Manasido Hottu
Manase Manase Bisi Bisi Manase
Manase Ondu Manasiro.. Manasina.. Dhiranana..
Thumula Manasigu Komala Manaside
Thodalu Manasigu Mrudula Manaside
Manasicche Manasa Olage Manasveche Manasa Horage Ye Ye
Manaspoorthi Manasa Poorthi Iruvude Manasu
Manasello Manasu Maado Manasa Manasu
Manase O Manase
Manase Yele Manase
Manase Ola Manase
Chandramukhi Pranasakhi Songs
Nenapugala Maathu Madhura
Manase O Manase
Modala Prema Patrave
Chiguru Bombeye
Aralo Hunnime
El El Mallige
Ondu Prema Pallakkiya Mele
Chandramukhi Hoy
Comments
comments