August 23, 2018
Chandramukhi Hoy Song Lyrics | Chandramukhi Pranasakhi
Chandramukhi Hoy Song Lyrics | Chandramukhi Pranasakhi: Chandramukhi Hoy is a song from the 1999 Kannada movie Chandramukhi Pranasakhi, directed by Seetharam Karanth. The film was produced by N K Prakash Babu under the banner Shreematha Pictures.
Chandramukhi Pranasakhi features Ramesh Aravind, Prema, Bhavana, Srinivasa Murthy, Vaishali Kasaravalli, Akhila, Shivaram, B. V. Radha, Renukamma Murugod, Eshwari Kumari, Narayan, Mysore Ramanand, Mandeep Roy, Cheluvamurthy, Sudheer, Suresh Kumar, Sudarshan Gatti, K. K Gatti and others.
Lahari Music is the music label of this movie. This songs was composed and written by K. Kalyan. Chandramukhi Hoy Song was rendered by Chorus singers.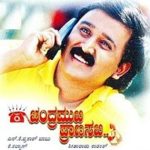 Chandramukhi Hoy Lyrics
Movie: Chandramukhi Pranasakhi [1999]
Music Label: Lahari Music
Music: K. Kalyan
Lyrics: K. Kalyan
Singers: Chorus
Check out the lyrics here..
Chandramukhi Pranasakhi
Chandramukhi Hoy.. Pranasakhi Hoy
Ibbarali Hoy Yaaru Sukhi Hoy
Than Sogasali Than Chandramuhi
Than Gunadali Vismaya Tharo Pranasakhi
Tandaana Tandaana Mukhamukhi
Chandramukhi Hoy.. Pranasakhi Hoy
Ibbarali Hoy Yaaru Sukhi Hoy
Chamchachacham Chamchachacham Cham
Chamchachacham Chamchachacham Cham
Anga Anga Therediddtare Andake Bele
Antaranga Theredittare Hrudayake Bele
Maathugalanu Theredittare Raagake Bele
Bhaavagalanu Theredare Anuraagake Bele
Moggadu Beretarene Gandhake Bele
Gham Ghama Gham Ghama Gham
Chiguradu Teredarene Chaitrake Bele
Tham Tana Tham Thana Nam
Reppe Theredare Kannbele
Sippe Theredare Hann Bele
Neertheredare Mann Bele
Preethi Thredare Henn Bele
Chandramukhi Hoy.. Pranasakhi Hooy
Ibbarali Hoy Yaaru Sukhi Hooy
Cheluva Maayavaagolu Chandramukhi Hoy
Praana Vaayu Aagolu Pranasakhi Hoy
Shrungaarada Shrungadavalu Chandramukhi Hoy Hoy
Laavanyake Laandra Ivalu Pranasakhi Hoy
Aache Irulu Iddarene Kaano Chandramukhi Chamchachacham
Olage Irulu Iddaroonu Belago Pranasakhi Thamthanathamthanatham
Gidividda Kade Moolike
Shila Idda Kade Baalike
Manasidda Kade Maalike
Kanasidda Kade Holike
Chandramukhi Hoy.. Pranasakhi Hoy
Ibbarali Hoy Yaaru Sukhi Hoy
Than Sogasali Than Chandramuhi
Than Gunadali Vismaya Tharo Pranasakhi
Tandaana Tandaana Mukhamukhi
Chandramukhi Hoy.. Pranasakhi Hoy
Ibbarali Hoy Yaaru Sukhi Hoy
Chandramukhi Pranasakhi Songs
Nenapugala Maathu Madhura
Manase O Manase
Modala Prema Patrave
Chiguru Bombeye
Aralo Hunnime
El El Mallige
Ondu Prema Pallakkiya Mele
Chandramukhi Hoy
Comments
comments