August 23, 2018
Chiguru Bombeye Song Lyrics | Chandramukhi Pranasakhi
Chiguru Bombeye Song Lyrics | Chandramukhi Pranasakhi:  Chiguru Bombeye Naviru Bombeye is a song from the 1999 Kannada movie Chandramukhi Pranasakhi, directed by Seetharam Karanth. The film was produced by N K Prakash Babu under the banner Shreematha Pictures.
Chandramukhi Pranasakhi features Ramesh Aravind, Prema, Bhavana, Srinivasa Murthy, Vaishali Kasaravalli, Akhila, Shivaram, B. V. Radha, Renukamma Murugod, Eshwari Kumari, Narayan, Mysore Ramanand, Mandeep Roy, Cheluvamurthy, Sudheer, Suresh Kumar, Sudarshan Gatti, K. K Gatti and others. Lahari Music is the music label of this movie. This songs was composed and written by K. Kalyan. Chiguru Bombeye Naviru Bombeye Song was rendered by famous singer K. S. Chithra.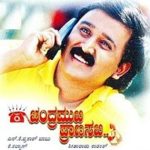 Chiguru Bombeye Lyrics
Movie: Chandramukhi Pranasakhi [1999]
Music Label: Lahari Music
Music: K. Kalyan
Lyrics: K. Kalyan
Singer: K. S. Chithra
Check out the lyrics here..
Chiguru Bombeye Naviru Bombeye
Nee Dantha Theedidantha Bombeye
Chiguru Bombeye Naviru Bombeye
Vasantha Koreda Swantha Bombeye
Naachike Ninna Bannave
Kuthoohalaaa Ninna Odaveye
Ninnavane Ninage Shilpiye
Chiguru Bombeye Naviru Bombeye
Nee Dantha Theedidantha Bombeye
Aaaaa Ee Kshanavu Marukshanavu Prathishanavirali
Prathi Naaleya Prathi Kanasu Prathipalisali
Neenondu Sihi Putthali Bombe Kane
Kai Hidiyo Kalegaarana Angaiyolage
Nee Sparsha Maniyaagu Ninna Prathi Galige
Neenondu Sanjeevini Bombe Kane
Haneya Maneyalle Ha Aa Aa Aa
Haseya Maneide Oh Oh Oh Oh
Madhu Suriva Madhu Magale
Prathi Irulu Modalirule
Chiguru Bombeye Naviru Bombeye
Nee Dantha Theedidantha Bombeye
Haa Aa Aa Ninnanda Ninage Maathra Nennevarege
Nina Hrudaya Ninnolage Iddare Hege
Ardhangigu Ardha Sigabekide
Ninnusiru Bari Gaalige Berethare Hege
Ninnhesarige Hesarondu Bareduko Heege
Hesarusiralu Sangathige Paalu Ide
Gaali Neerigu Ha Aa Aa Aa Aa
Taali Nantide Oh Oh Oh Oh
Hosa Baalu Hosa Belaku
Ninnolage Nagabeku
Chiguru Bombeye Naviru Bombeye
Nee Dantha Theedidantha Bombeye
Chiguru Bombeye Naviru Bombeye
Vasantha Koreda Swantha Bombeye
Naachike Ninna Bannave
Kuthoohalaaa Ninna Odaveye
Ninnavane Ninage Shilpiye
Chandramukhi Pranasakhi Songs
Nenapugala Maathu Madhura
Manase O Manase
Modala Prema Patrave
Chiguru Bombeye
Aralo Hunnime
El El Mallige
Ondu Prema Pallakkiya Mele
Chandramukhi Hoy
Comments
comments