April 12, 2018
Abhi Kannada Movie Songs Lyrics | Puneeth Rajkumar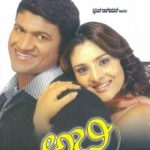 Abhi Kannada Movie Songs Lyrics | Puneeth Rajkumar: Mama Mama Maja Madu is a song from the 2003 Kannada movie Abhi, written and directed by Dinesh Babu. The film was produced by Parvathamma Rajkumar under the banner Poornima Enterprises. Abhi features Puneeth Rajkumar, Ramya, Sahukar Janaki, Sumithra, Umashree, Raju Ananthaswamy, Honnavalli Krishna, Biradar, Hulivan Gangadharaiah, B Jayamma, Enagi Nataraj, Shailaja Joshi, Kavya Prakash, Sunil Puranik, Sridhar, Bharath Bhagavathar and others.
The film marks the debut of actress Ramya. The film was remade in Telugu as Abhimanyu starring Kalyan Ram. Ashwini Audio is the music label of this movie. This song was composed by Gurukiran with lyrics written by K. Kalyan, Hamsalekha, V. Nagendra Prasad and Bangiranga. Songs were rendered by Udit Narayan, Mahalakshmi Iyer, Shankar Mahadevan, Chetan Sosca, Sowmya Raoh and Puneeth Rajkumar.
The director of this film Dinesh Babu [Dinesh Baboo] is a multi talented film personality. He is a Cinematographer, Producer, Script Writer, Director and also an Actor. He was born in Trivandrum, Kerala. He started his film career as a cinematographer in Malayalam film industry. He directed movies in Tamil, Telugu, Kannada and Malayalam. He made his directorial in Kannada in 1989 with Idu Saadhya, A thriller Based on Stage Fright. This film set the Guinness record for fastest completion of an Indian film at that time. Some of his noted Kannada films are Suprabhatha, Laali, Nishyabda, Hendthighelbedi, Hollywood and others.
Check out the lyrics here..
Mama Mama Maja Madu Lyrics
Movie: Abhi [2003]
Music Label: Ashwini Audio
Music: Gurukiran
Singer: Puneeth Rajkumar
Lyrics: Hamsalekha
Sum Sumne Olu Bido Sundari Lyrics
Movie: Abhi [2003]
Music Label: Ashwini Audio
Music: Gurukiran
Singers: Udit Narayan, Sowmya Raoh
Lyrics: Bangiranga
Ee Nanna Kannane Lyrics
Movie: Abhi [2003]
Music Label: Ashwini Audio
Music: Gurukiran
Singers: Udit Narayan, Mahalakshmi Iyer
Lyrics: K. Kalyan
Vidhi Baraha Lyrics
Movie: Abhi [2003]
Music Label: Ashwini Audio
Music: Gurukiran
Singer: Dr. Rajkumar
Lyrics: K. Kalyan
Bittaku Guru Lyrics
Movie: Abhi [2003]
Music Label: Ashwini Audio
Music: Gurukiran
Singer: Shankar Mahadevan, Chetan Sosca
Lyrics: V. Nagendra Prasad
Comments
comments