November 5, 2018
Summane Beeso Gaaliyu Song Lyrics | Home Minister
Summane Beeso Gaaliyu Song Lyrics | Home Minister: Summane Beeso Gaaliyu is a Kannada song from an upcoming 2018 Kannada movie Home Minister Starring Upendra, Vedika, Adhya, Sadhu Kokila, Avinash and others. The film was directed by Sri Hari Naanu and produced by Poorna Naidu under the banner Sreeeyas Chitra Record. Aananda Audio Video is the music label of this movie.
This song was composed by Mohamaad Ghibran of Viswarropam 2 fame, making his Kannada debut. Ghibran is a frequent collaborator of Kamal Haasan and worked in movie like Uttama Villain, Papansam, Thoongavanam and Viswaroopam 2. The lyrics of this song were written by Kannada lyricist V. Nagendra Prasad. Summane Beeso Gaaliyu Song was rendered by playback singers Midhun Mukundan and Anuradha Bhat.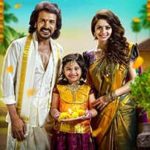 Summane Beeso Gaaliyu Lyrics
Movie: Home Minister [2018]
Audio Label: Aananda Audio Video
Music: Mohamaad Ghibran
Lyricist: Dr V. Nagendra Prasad
Singers: Midhun Mukundan, Anuradha Bhat
Check out the lyrics here..
Summane Beeso Gaaliyu
Raaya Baariyagide
Ninnade Kampu Tharuthide
Premiyaythu Nannede
Mohiyaade Naanu …..
Soorya Rashmi Neenu
Naanade Ibbani
Maariyade Naanu Somaariyade Nee
Naadavade Neenu Naa Ninna Mardani
Summane Beeso Gaaliyu
Raaya Baariyagide
Ninnade Kampu Tharuthide
Premiyaythu Nannede
Olavenuva Meravanige
Kanasugale Parivaara
Marethare Nee Are Galige
Nenapugale Parihaara
Adeno Kaane Kaaneyaadenu
Tharangavaagi Neeradenu
Vicharaveno Helabekide
Visheshavaagi Manasu Ondaagide
Devare Illada Ooralli
Ninnanne Devara Maduvenu
Summane Beeso Gaaliyu
Raaya Baariyagide
Ninnade Kampu Tharuthide
Premiyaythu Nannede
Usirugalu Berethiralu
Hrudayagala Pisu Maathu
Hrudayagalu Kalethiralu
Nayanagale Rujuvaathu
Aparavaagi Preethiyaagide
Apoorna Naanu Neenillade
Apoorva Ninna Jaadu Thumbide
Anantha Dalli Manasu Thelaadide
Ninninda Allave Jeevana
Neenillavadare Baalenu Naa
Summane Beeso Gaaliyu
Raaya Baariyagide
Ninnade Kampu Tharuthide
Premiyaythu Nannede
Comments
comments