November 5, 2017
Hendakuduka Rathna Nanna Lyrics
Hendakuduka Rathna Nanna Lyrics: Hendakuduka Rathna Nanna is a song from the 1994 Kannada movie Karulina Koogu, directed by D. Rajendra Babu. The film is a remake of Malayalam hit Akashadoothu (1993) directed by Sibi Malayil. This movie features Prabhakar, Vinaya Prasad, Srinath, Lakshman, M. S. Karanth, Richard Louis, Umashree, Srinivasamurthy, Pramila Joshai, Doddanna, Ashalatha, Shanthamma and others.
Lahari Music was the music label of this movie. This song was composed and lyrics penned by Hamsalekha. Hendakuduka Rathna Nanna song was rendered by Manu.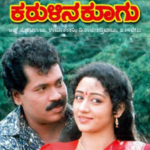 Hendakuduka Rathna Nanna Lyrics
Movie: Karulina Koogu [1994]
Music Label: Lahari Music
Music: Hamsalekha
Lyrics: Hamsalekha
Singer: Manu
Check out the lyrics here..
Hendakuduka Rathna Nanna Maasthru
Hendakuduka Rathna Nanna Maasthru
Henda Kudiyabyada Antha Andru
Henda Muttalla Hendthin Bidalla
Desi Sarayi Kudiyo Sipayi
Nannandre Nannandre
Nannandre Chinthilla Nanna Kondru Paravilla
Kannadana Baiyybyada Katkond Hendthina Bidabyada
Olagaithe Sarayi Bidtha Aithe Baayi Baayi
Nannandre Chinthilla Nanna Kondru Paravilla
Kannadana Baiyybyada Katkond Hendthina Bidabyada
Olagaithe Sarayi Bidtha Aithe Baayi Baayi
Kailasammu Kud-Dru Sathyakke Deepa Hid-Dru
Anakru Nu Kud-Dru Badkin Bhattin Ilsdru
Bardu Bardu Karnatkakke Punyan Katkot Hodru
Sumne Kudyo Nannothavrge Bhuddina Bhichchit Hodru
Anna Thindu Annabeda Anna Thindu Annabeda
Benna Hinde Chuchchabyada Benna Hinde Chuchchabyada
Nannannu Lacha Nannannu Ritcha
Nannandre Chinthilla Nanna Kondru Paravilla
Kannadana Baiyybyada Katkond Hendthina Bidabyada
Olagaithe Sarayi Bidtha Aithe Baayi Baayi
Dakshina Kannada Swachcha Uthar Kannada Huchcha
Hale Kannada Haalu Hosa Kannada Jenu
Idli Rotti Mudde Meenu Ella Utakke Beku
Kodava Thuluva Konkani Lambani Karnatkakke Beku
Kannadakke Bedhavilla Kannadakke Bedhavilla
Yara Melu Dweshavilla Yara Melu Dweshavilla
Nannannu Lachcha Lachcha Nannannu Ritcha Ritcha
Nannandre Chinthilla Nanna Kondru Paravilla
Kannadana Baiyybyada Katkond Hendthina Bidabyada
Olagaithe Sasa Sarayi Bidtha Aithe Baayi Baayi Baayi Baayi
Nammor Himsena Thaldru Himse Adru Hel-Ru
Mangan Thara Haru-Ru Kaasig Maanan Maar-Ru
Hinge Andu Hinge Andu Ella Bhaashen Kalthru
Kannadadore Kannada Bhashe Mathadode Marthru
Ninna Meese Neene Thiruvu Ninna Meese Neene Thiruvu
Alle Ninna Alivu Ulivu Alle Ninna Alivu Ulivu
Nannannu Lachcha Lachcha Nannannu Ritcha Ritcha
Nannandre Chinthilla Nanna Kondru Paravilla
Kannadana Baiyybyada Katkond Hendthina Bidabyada
Olagaithe Sasa Sarayi Bidtha Aithe Baayi Baayi Baayi Baayi
Nannandre Chinthilla Nanna Kondru Paravilla
Kannadana Baiyybyada Katkond Hendthina Bidabyada
Olagaithe Sasa Sarayi Bidtha Aithe Baayi
Karulina Koogu Songs
Hendakuduka Rathna Nanna
Alabeda Magale Kaththalaguvaaga
Bidurina Kolalu
Raagavaagi Naanu Bhoomige
Naanu Badava Naanu Badavi
Comments
comments